If you're looking for baby shower food ideas on a budget, then you're in the right place! There are a ton of resources out there on ways to save money for a baby shower. Most of them try to cover everything from the venue to invitations.
In contrast, we wanted to focus on specific part of any baby shower: the food! Food is a very social thing. A good meal or fun snacks sets the mood and gets people talking. On the same hand, the cost of food continues to rise. Plus, having a baby isn't exactly cheap, so finding ways to cut food costs without cutting flavor is a big deal.
To help you plan a frugal, fun, and impressive baby shower menu, we'll start with reviewing some general tips. Then, we'll jump into some specific frugal food options that'll be perfect for any baby shower.
This post may contain affiliate links which means that I may receive compensation at no extra cost to you if you make a purchase from a link found on my site. Please review my privacy policy for further details. As an Amazon Associate, I earn from qualifying purchases. Thank you for your support in allowing this site to continue!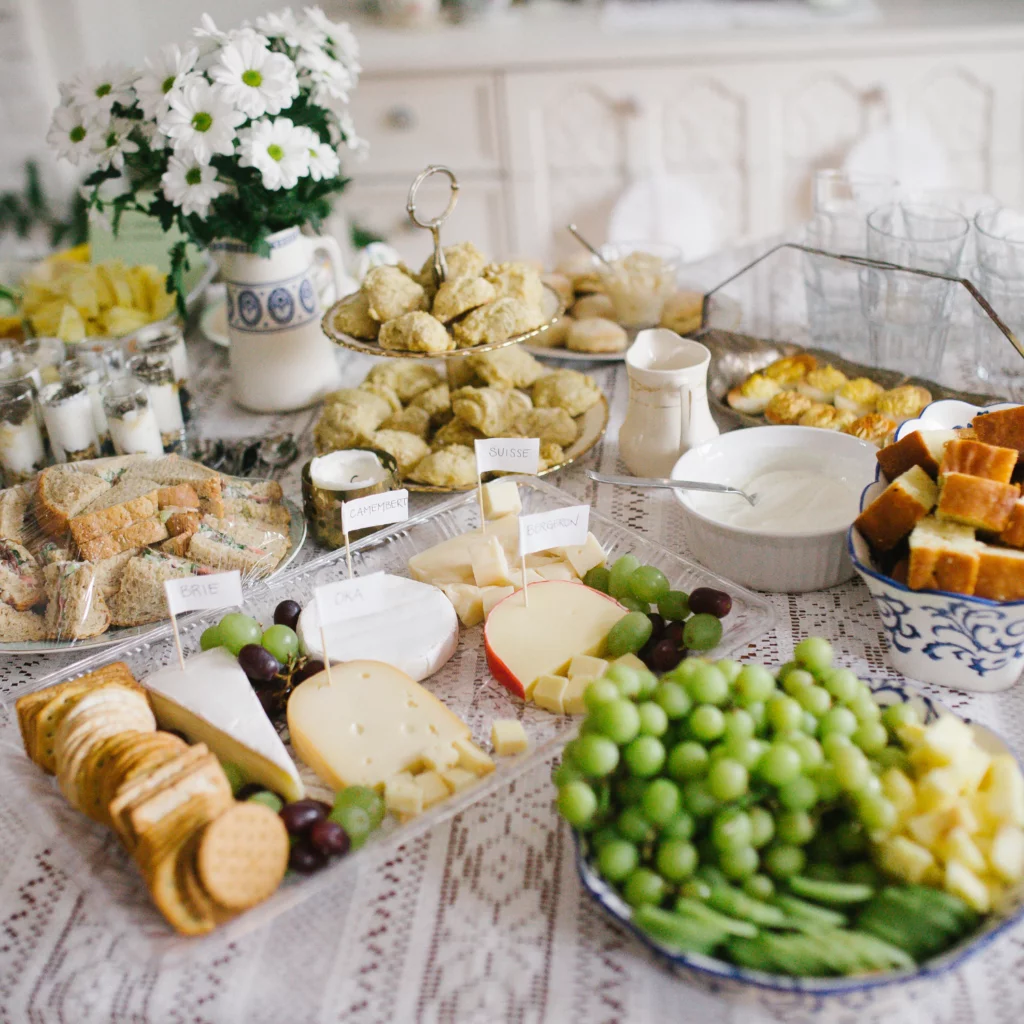 Tips For Creating a Baby Shower Menu on a Budget
Be your own caterer – One of the easiest ways to save money on a baby shower is to do the cooking yourself! It's more work, but if your goal is to cut costs, becoming your own caterer is the best overall strategy.
Skip the alcohol – Instead of serving cocktails or other adult beverages, consider opting for a cheaper alternative like punch or perhaps making your own mocktails.   
Go with finger foods – Rather than serving a full meal, lean on finger foods.  Things like mini-sandwiches, pickles, crackers, and cheese. Not only will you save money, but you'll also save a ton of time.  
Do it buffet style – Think of creating a DIY experience for guests.  Set up sandwich spreads, bread, and chips and let everyone create their own meal.  And, it doesn't have to be sandwiches.  You can set up a chili bar, taco bar, and even a dessert bar.  It's fun, interactive, and very economical.   
Have a potluck – Rather than doing all of the work yourself, why not outsource it to guests?  Have everyone bring their favorite dish.  Or, if you want to be more organized, you can provide the main entree and let everyone signup to bring complementary sides.  
Shop at club stores – If you're feeding a lot of people, there are no better places to shop than Club Stores like Costco and Sam's Club.  Buying in bulk can often be wasteful, but for parties, it's a great way to save some extra dough.  
Avoid mealtimes – It's not only important to think about what you'll serve at your next baby shower, but when.  Avoid scheduling your shower at common mealtimes and instead opt for the in-between times such as 10:30 am or 2:00 pm.  Personally, we recommend brunch for capitalizing on those cheap baby shower food ideas on a budget.   You can serve breakfast foods like French toast, bacon, and eggs which are super-cheap, packed full of flavor, versatile, and satisfying.
Shop smart – Knowing how to save money at the grocery store is crucial! Also, aiming to make something delicious out of cheap ingredients will help you save money on baby shower food! You'll find these articles helpful: How to Save Money on Groceries: the ULTIMATE Guide, 25+ Dirt Cheap Meals to Make Today, and 49+ Cheap Foods To Buy When You're Broke & Hungry.
Affordable Baby Shower Food Ideas (On a Budget)
1, Soups & Chili – A good soup or chili is the perfect dish for a baby shower on a budget., especially if you're hosting it in the Fall or Winter.  You can make classic chili with tomato sauce, meat, and beans or go for some white chicken chili.  For soups, there are so many options, from potato to corn chowder.     
2. Quiche – Quiche is another versatile and cheap food option for using baby shower foods on a budget.  You can load it up with different cheeses, add meat, or toss in veggies.  You can make it with a crust or go crustless to save money and cut carbs.   
3. French toast – All you need for this brunch classic is bread, eggs, milk, and cinnamon.  From there the sky's the limit.  You can create an amazing toppings bar of syrups and fruit compotes made from apples or berries.    
4. Omelets – Omelets are like a blank canvas.  Much like the French toast, you can create a toppings bar for your omelets with veggies, cheese, mushrooms, and meats.  
5. Charcuterie – You can spend a fortune on an upscale charcuterie spread.  But that doesn't mean you have to.  You don't have to spend a look to wow your guest.  Use expensive pickles and olives, use summer sausage instead of other dried meats, and stick with cheeses like cheddar and swiss. Check out these awesome tips for how to make a charcuterie board on a budget!
6. Chips & Dip – You don't have to get stuck in a rut with potato chips and ranch dip.  There are a ton of options from pita chips and hummus to buffalo chicken dip and blue corn tortilla chips.  There are a ton of options to satisfy any palate and fit into any budget.   
7. Sandwich platter  – As we mentioned before, sandwiches offer a lot of value for the money.  You can create an amazing make-your-own sandwich bar with buns, meat, veggies, condiments, and other sandwich spreads like chicken salad or pimento cheese.  
8. BBQ sliders – If you choose a non-mealtime for your baby shower, then you can opt for a scaled-down version of a meal.  Instead of serving up BBQ with all the trimmings, you can offer BBQ sliders and chips.  
9. Mini tacos  – Much like the sliders, mini tacos are a great way to impress your guests without breaking the bank on a full-scale meal.  The great thing about mini tacos is that you have so many options.  And, it lends itself very nicely to a buffet-style situation where guests build their own.    
10. Sugar cookies – No baby shower would be complete without dessert.  Sugar cookies are very inexpensive to buy or make.  Plus, they're a blank canvas.  You can buy them and frost and decorate them in all sorts of ways for extra pizazz.  
11. Sheet cake – You can make one or pick up one for cheap at Costco or Sam's Club.  Sheet cake is another "blank canvas food."  They're super-easy to decorate and most importantly, it's very economical.  
12. Cupcakes – If you want to create a more individualized experience, cupcakes are a great choice.   They are cheap to buy and even cheaper to make at home.  You can offer your guest different topping options and let them build their own.  It's fun for them and saves you time.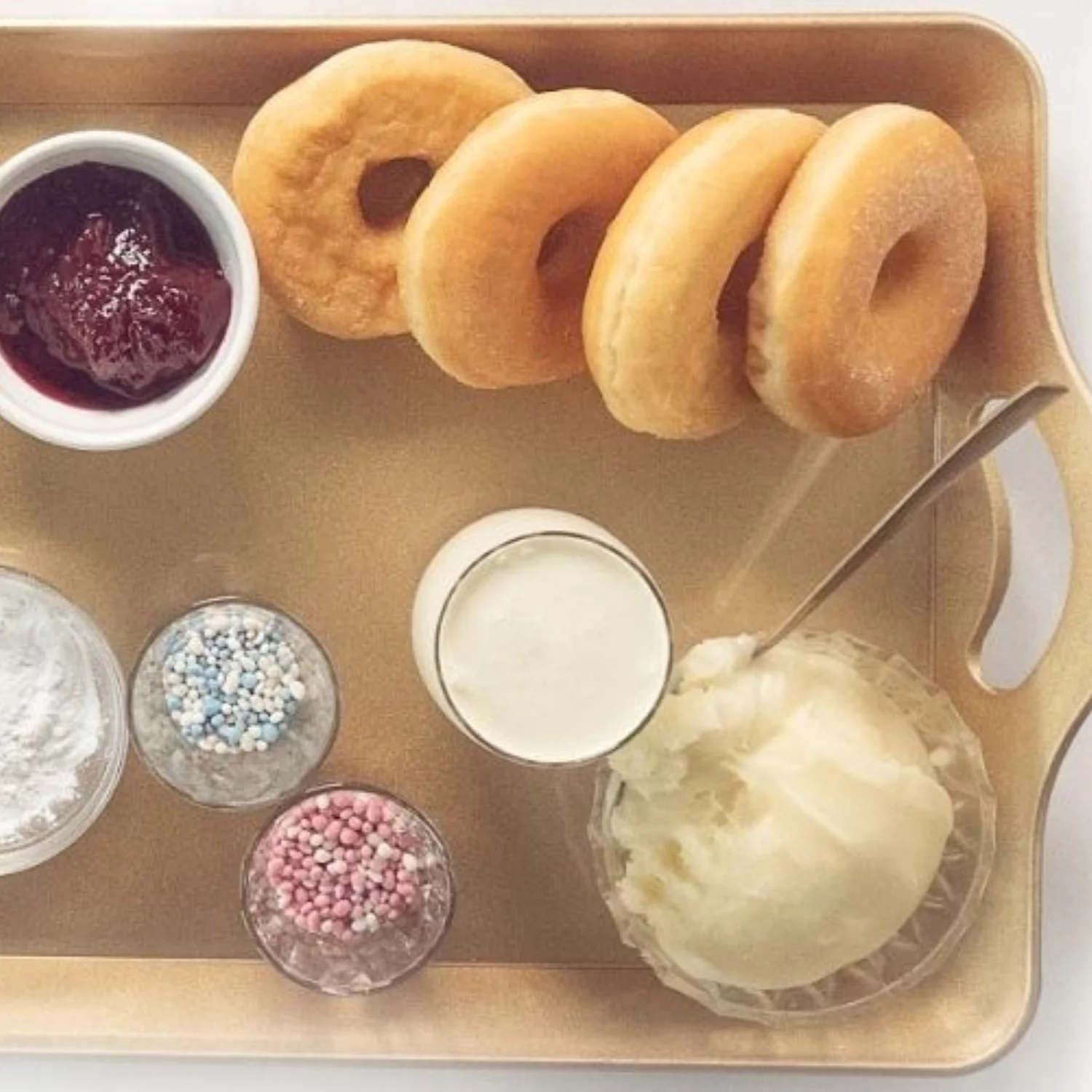 13. Filled doughnuts with glaze – These filled doughnuts with glaze are ready in just 15 minutes. A small pastry that you can assemble following just a few small steps. With a filling of fruity jam, creamy whipped cream, and sweet sugar icing. The glaze is decorated with some sprinkles. A nice snack to serve at your baby shower!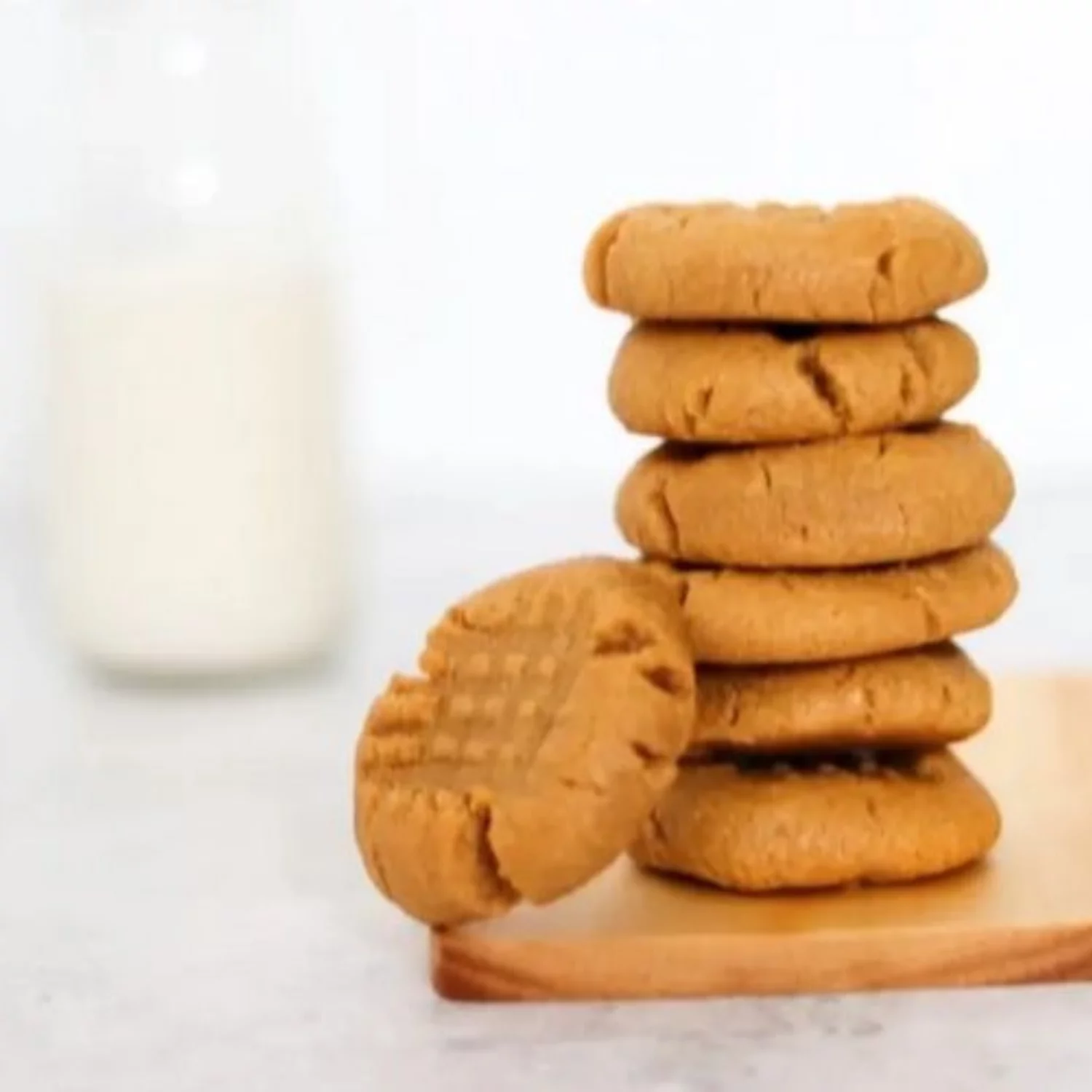 14. Easy 3 Ingredient Peanut Butter Cookies Recipe – These peanut butter cookies are tasty and only require 3 basic ingredients to make them! They're super quick, budget-friendly, and delicious.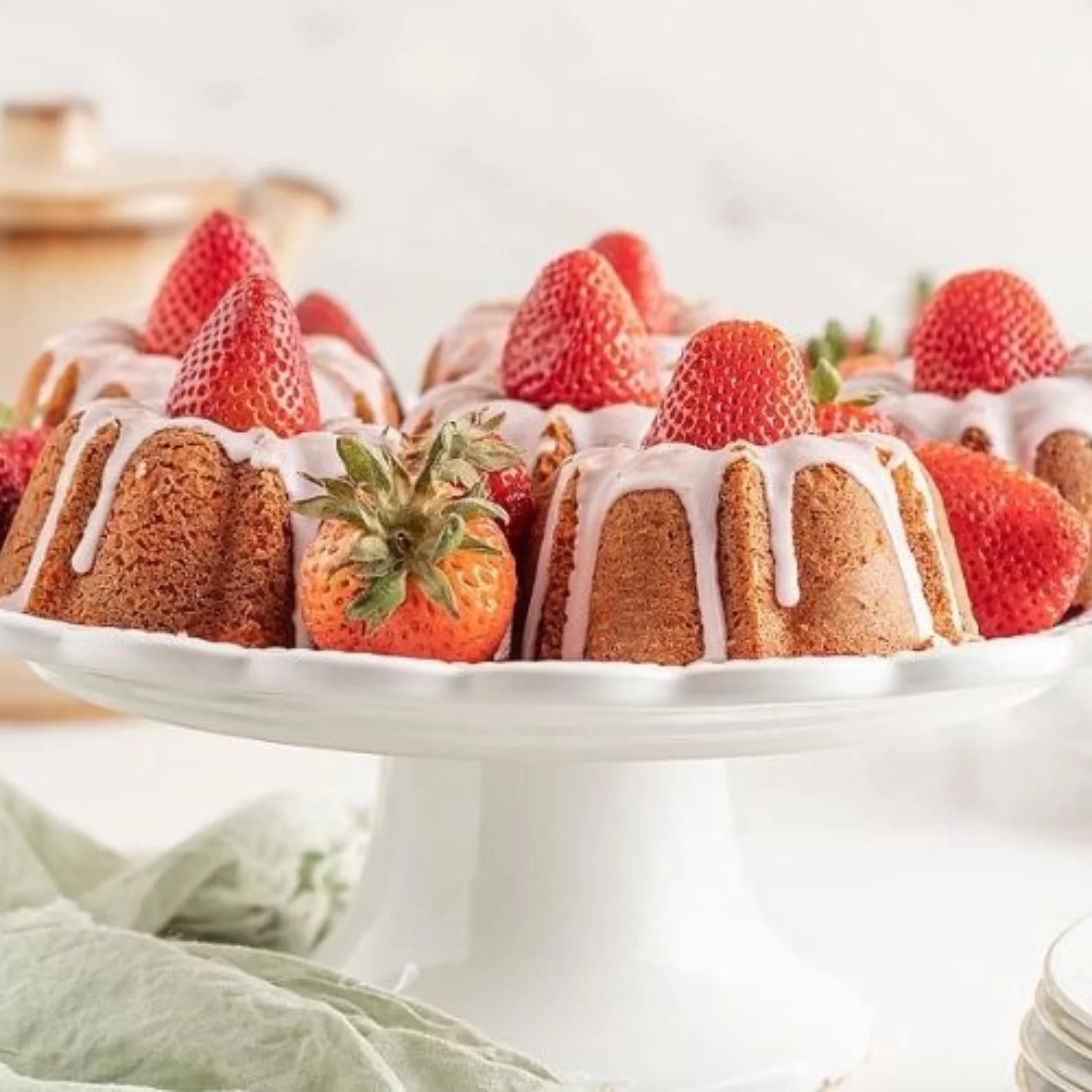 15. Mini Strawberry Bundt Cakes – These mini strawberry Bundt cakes are so cute! They're perfect for any special occasion.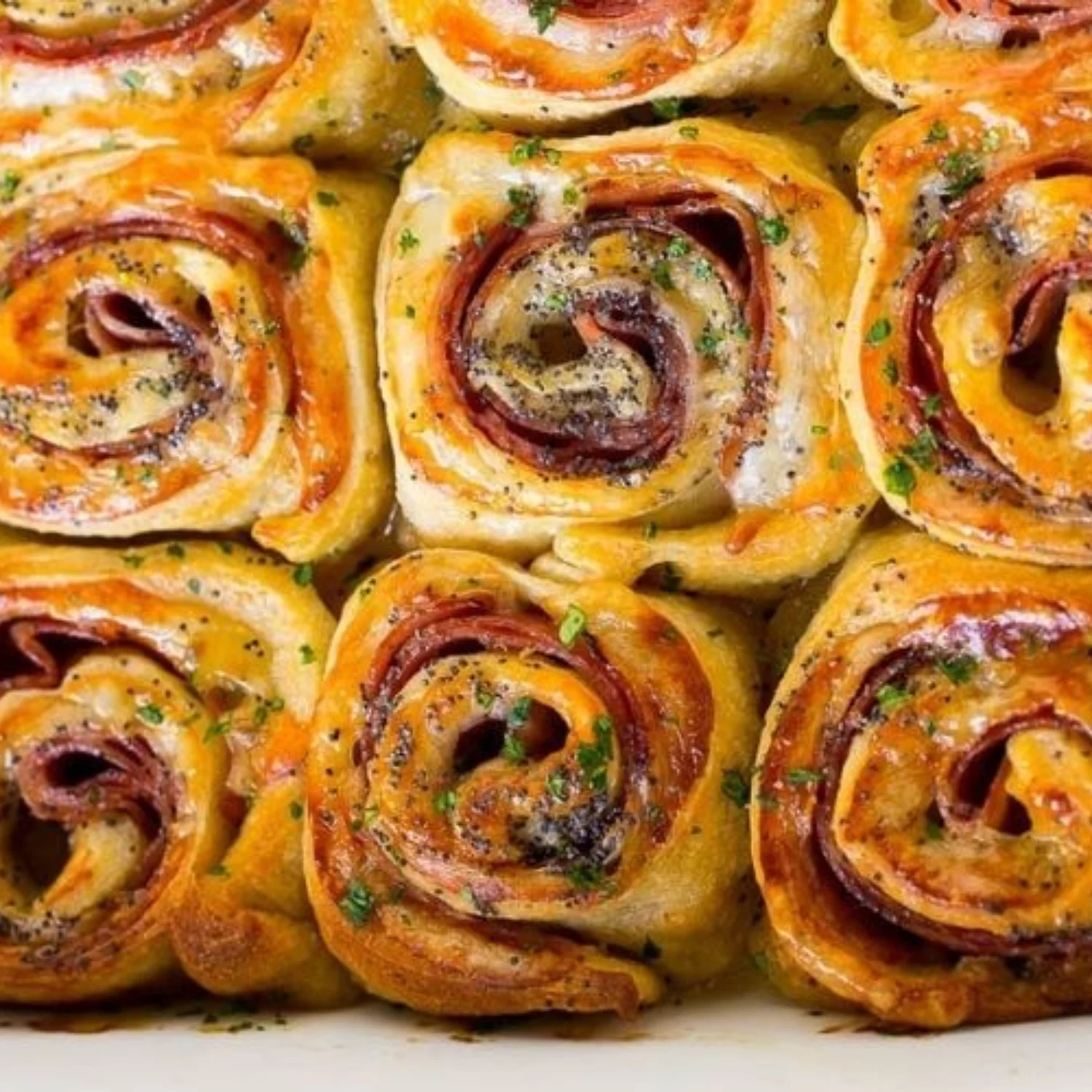 16. Ham and Cheese Pinwheels – These hot ham and cheese pinwheels are rolls loaded with plenty of meat and swiss cheese, then topped with a butter poppy seed sauce and baked to golden brown perfection.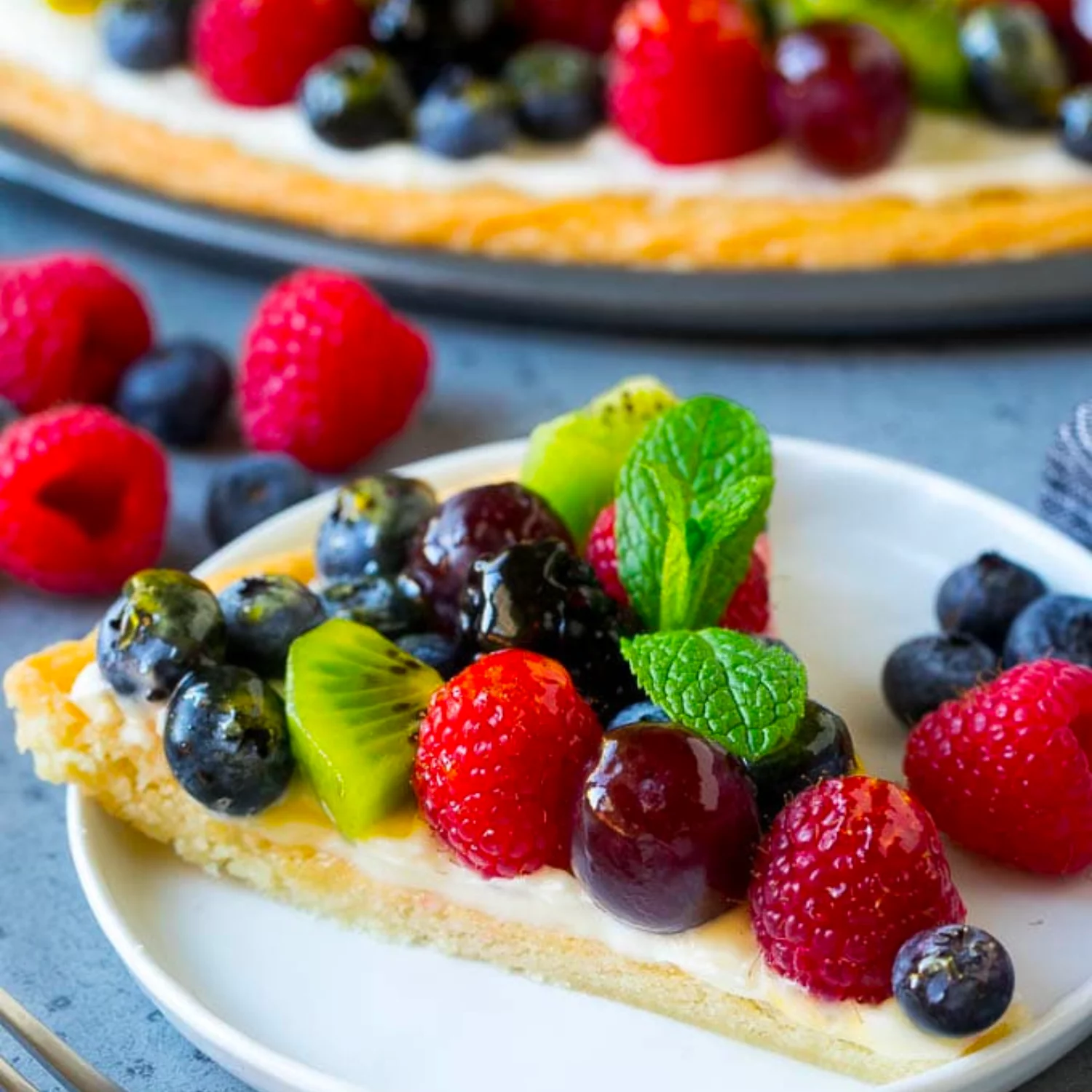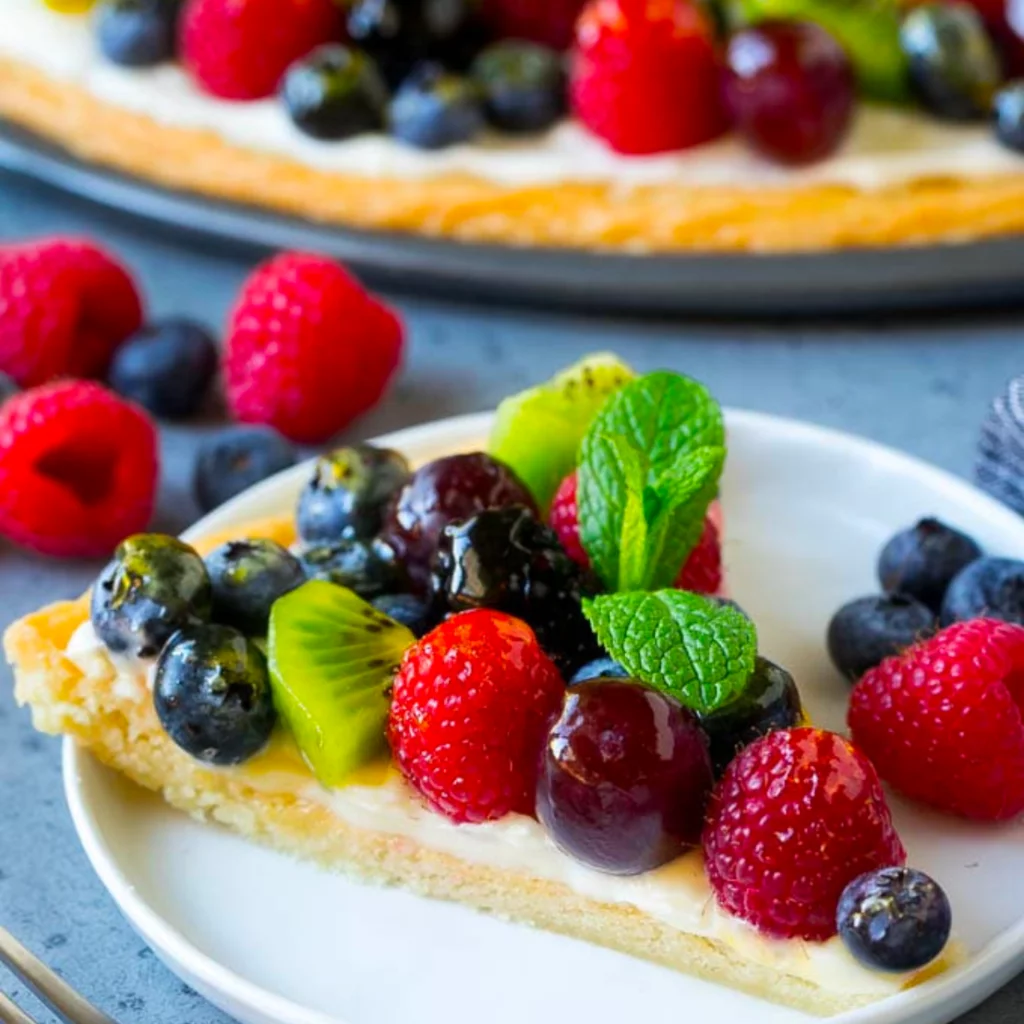 17. Fruit Pizza – This fruit pizza is a sugar cookie crust topped with cream cheese frosting and a variety of fresh fruit. YUM!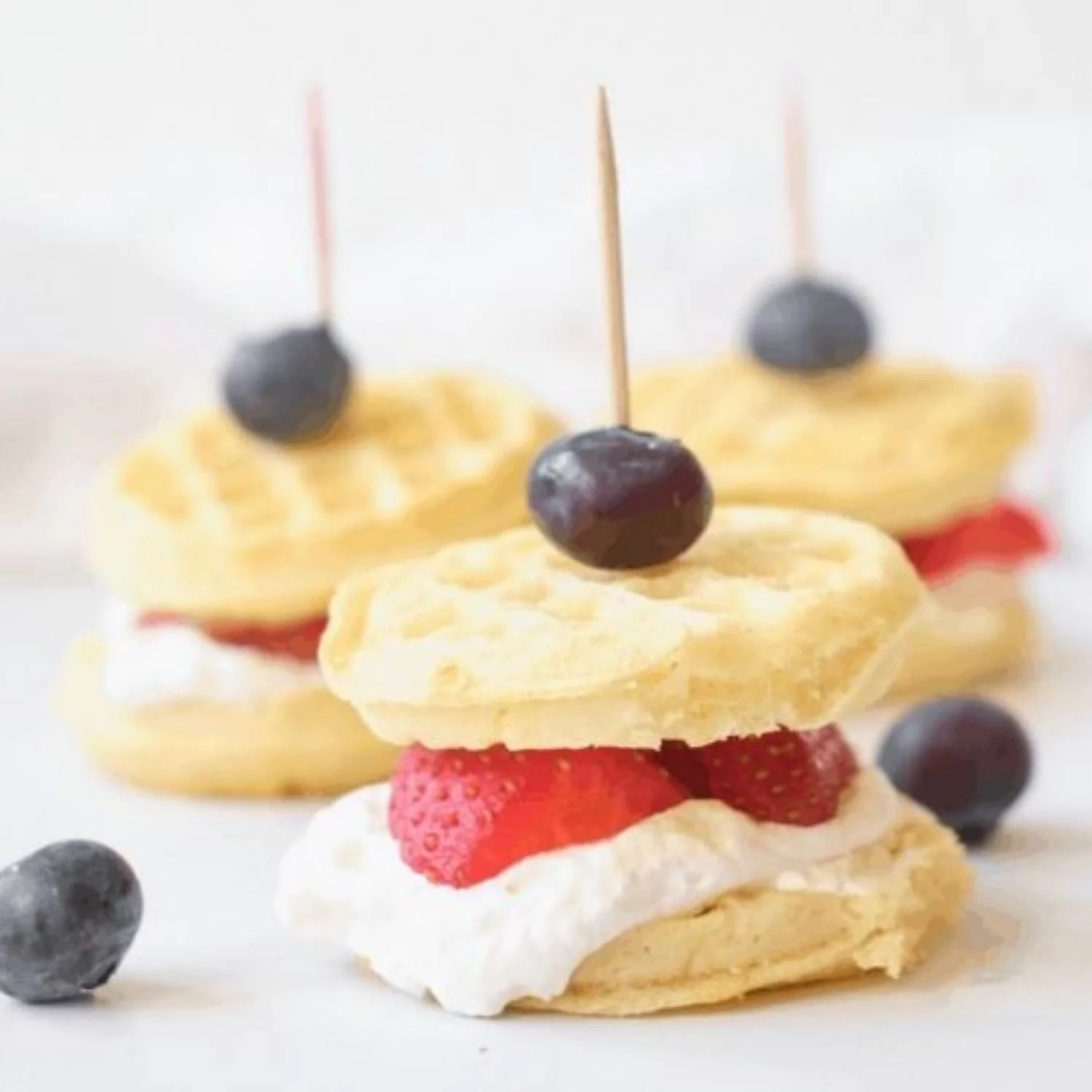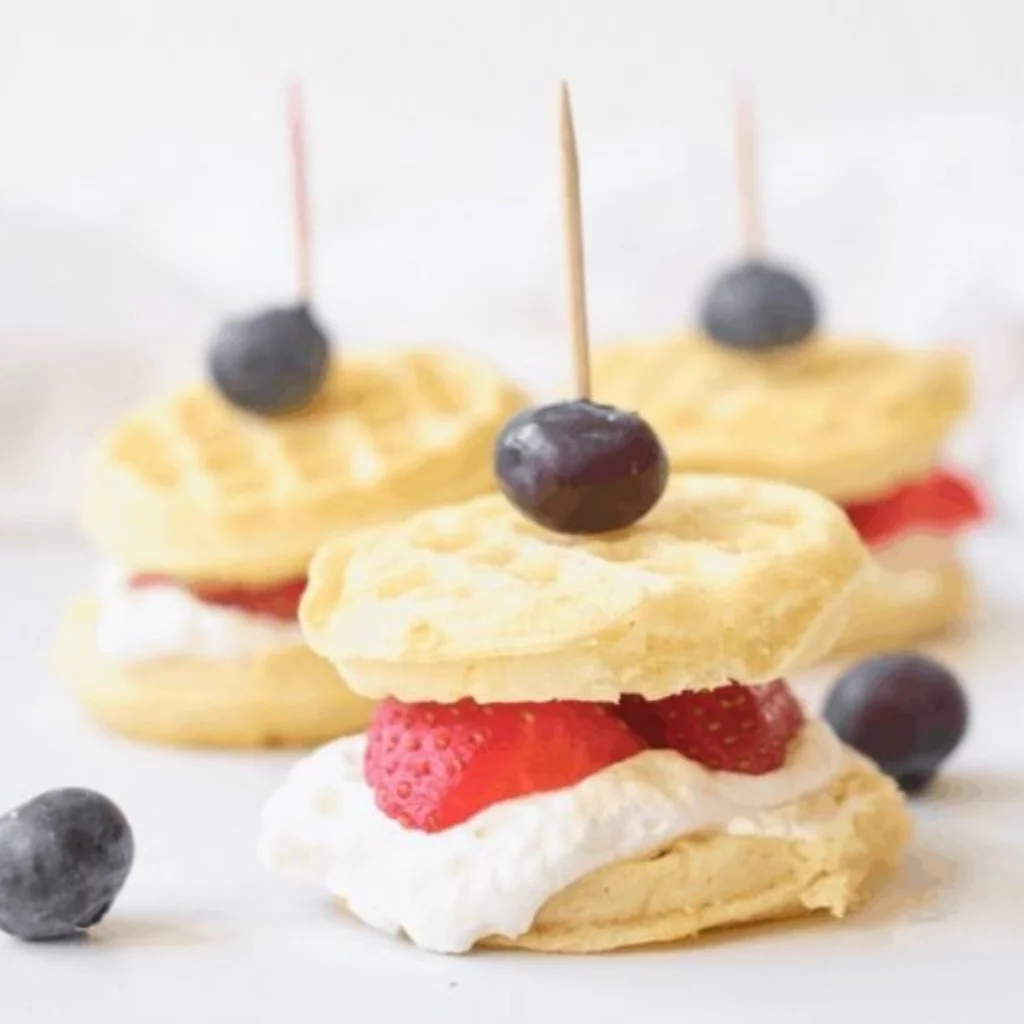 18. Berries & Cream Waffle Sandwiches – These berries and cream waffle sandwiches are so cheap and easy to make. Strawberries and whipped cream are sandwiched between two mini frozen waffles and finished off with a blueberry on top.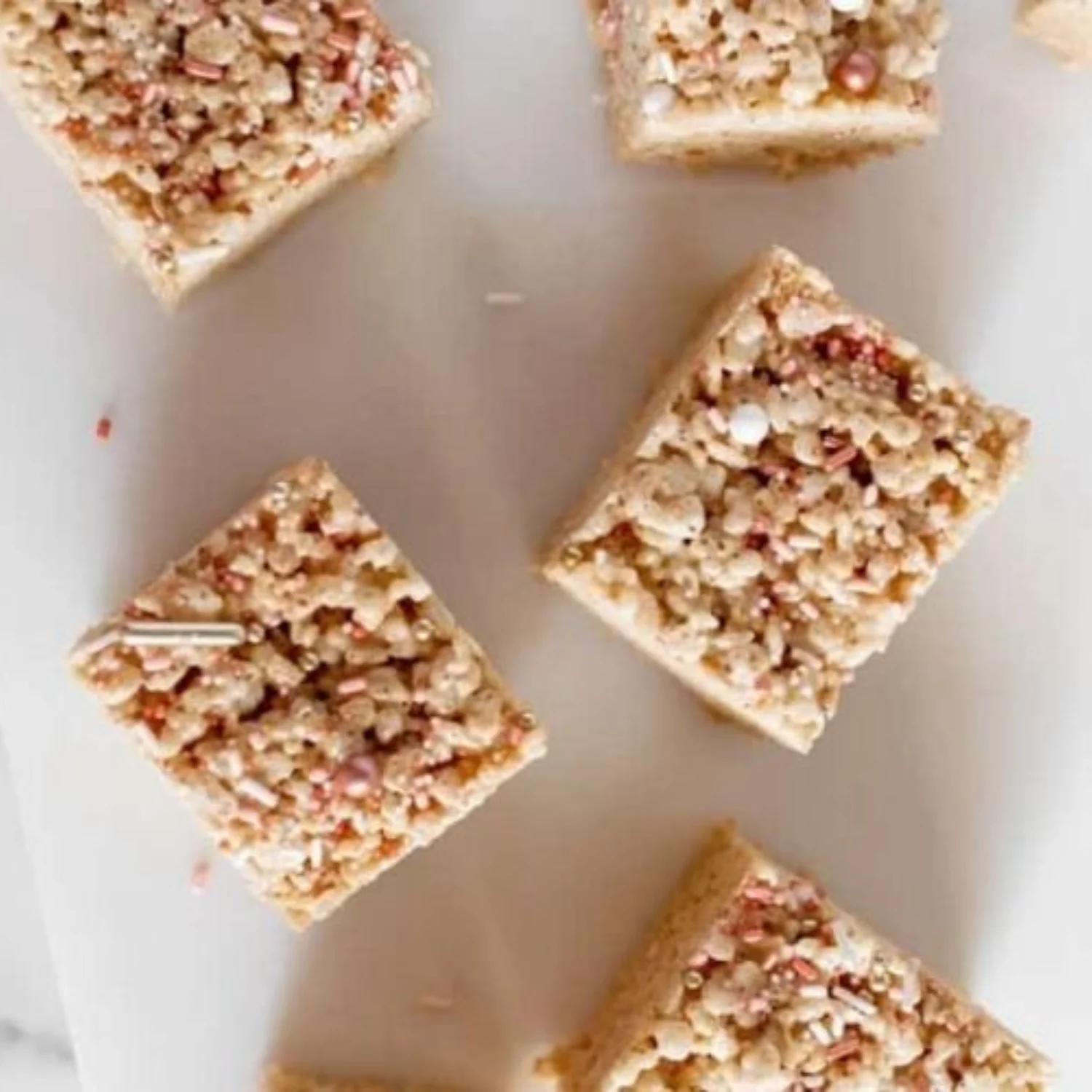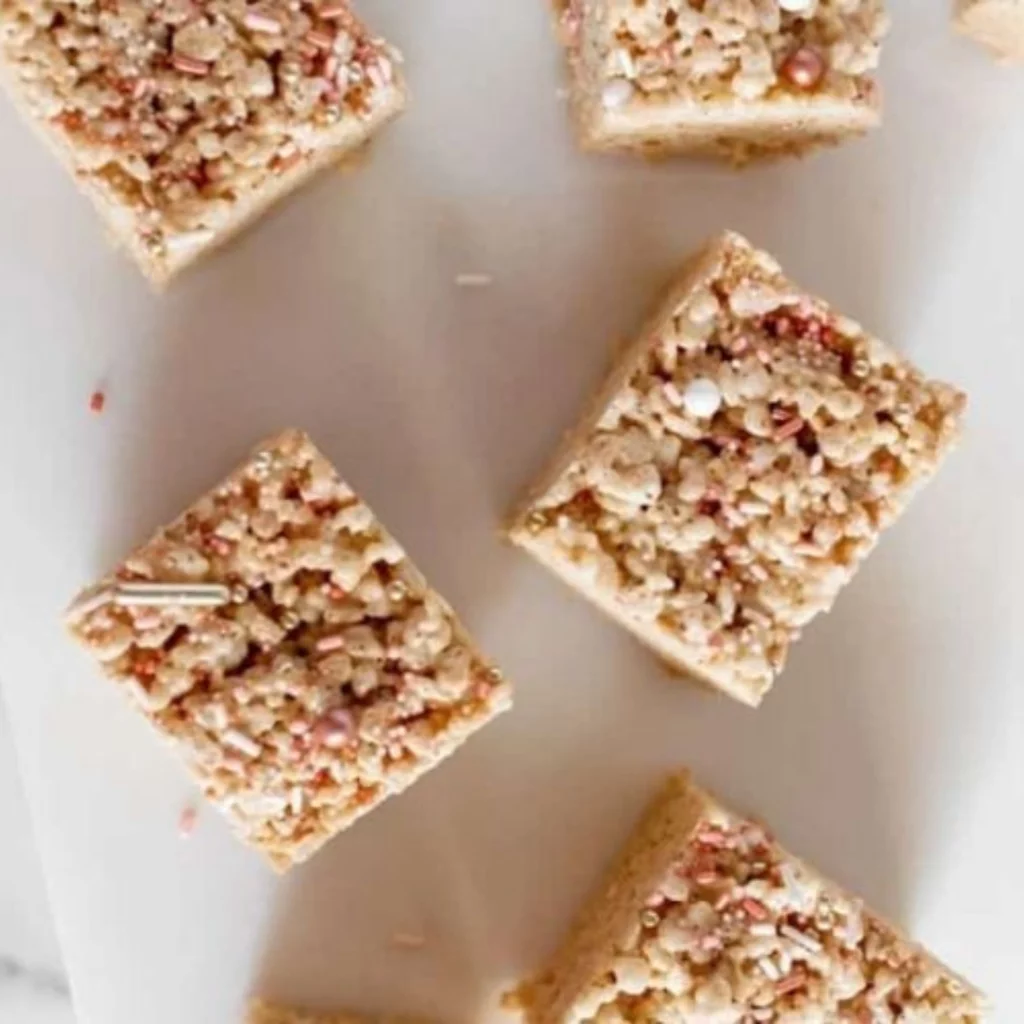 19. Brown Butter Rice Krispie Treats – An easy, delicious, and inexpensive treat for a baby shower. Update the sprinkle colors to customize for the party!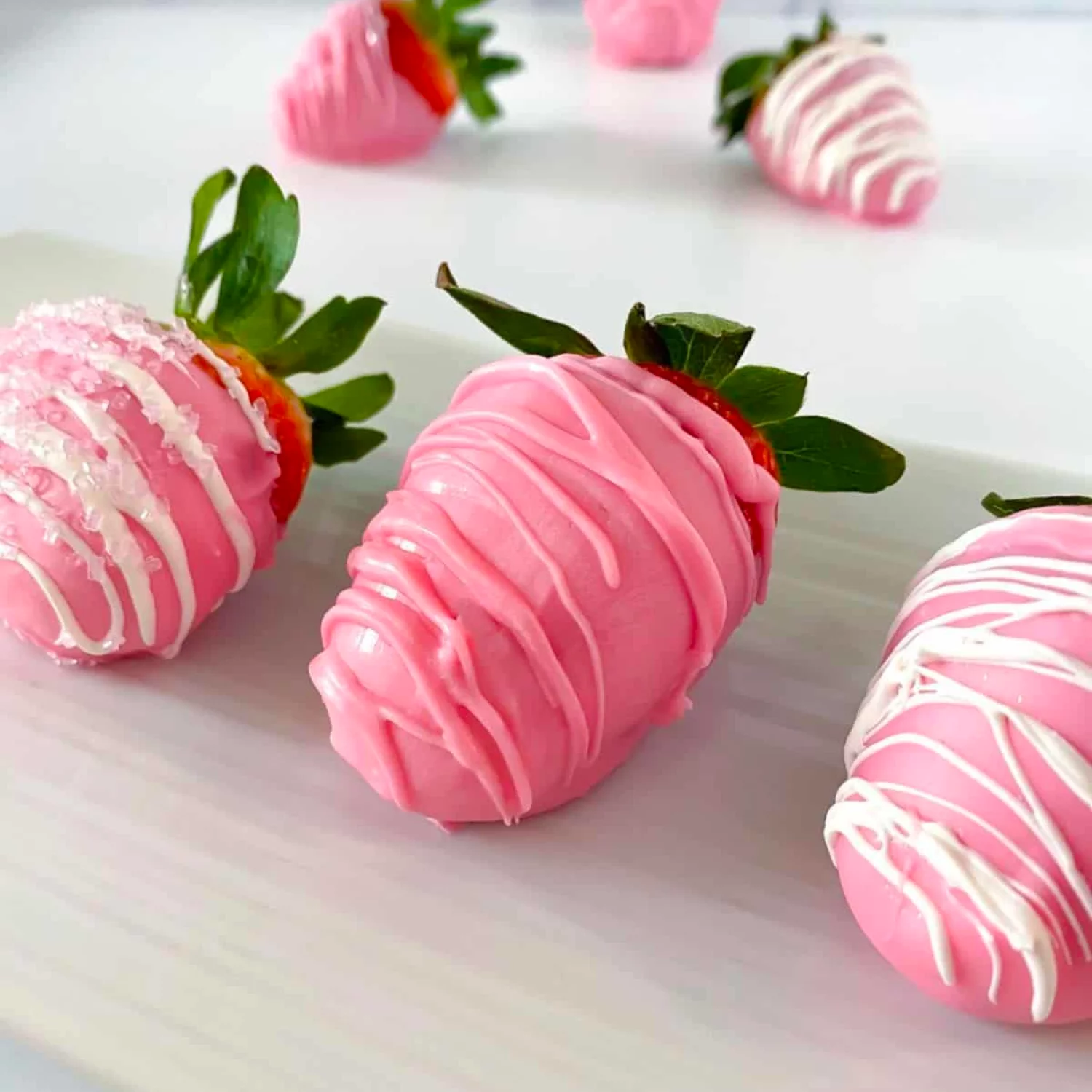 20. Pink Chocolate Covered Strawberries – Something a little sweet and fresh are married together in this cute treat! These are easily customizable too.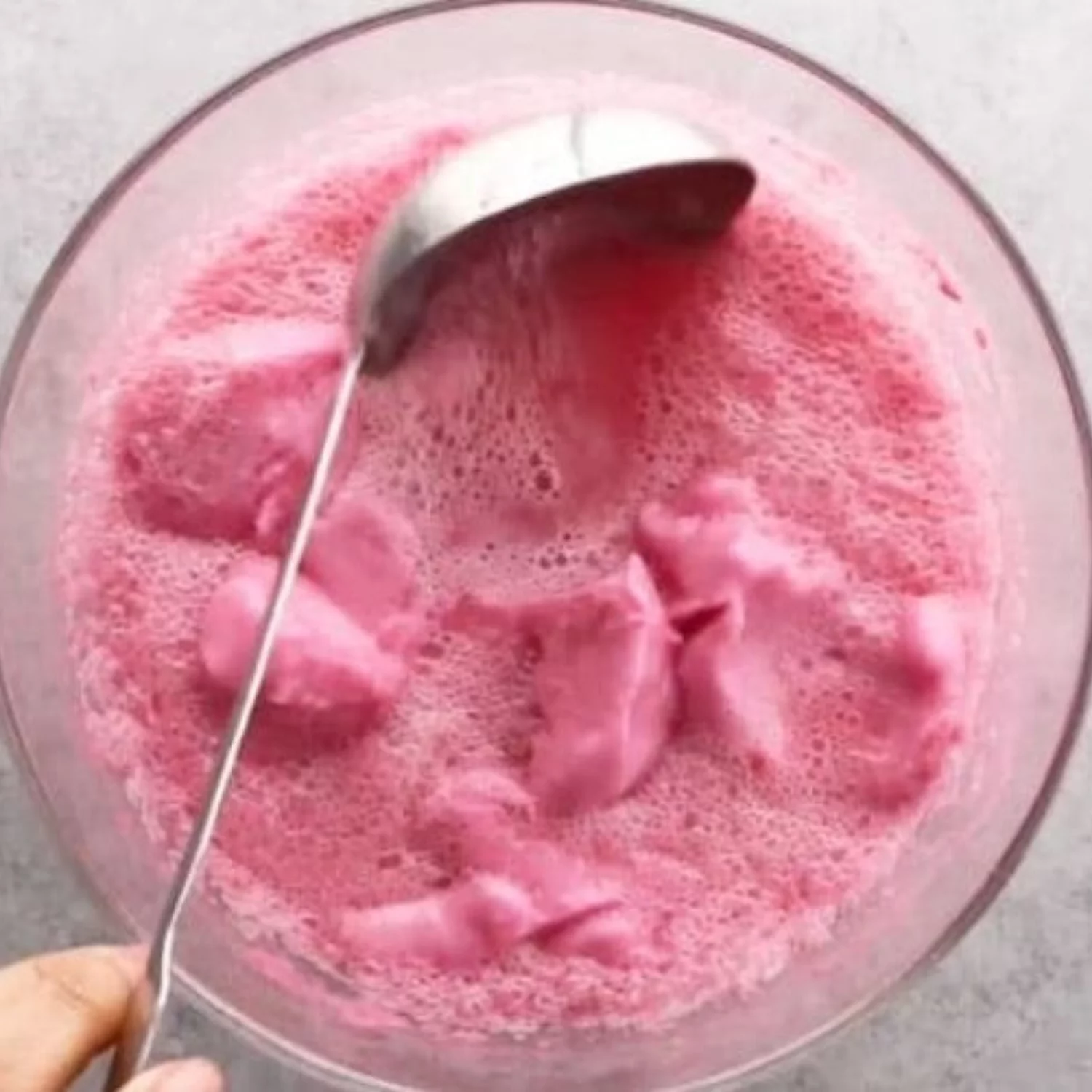 21. Pink Sherbet Punch – This easy 2-ingredient pink punch tastes great and will add a pretty decorative touch to your baby shower.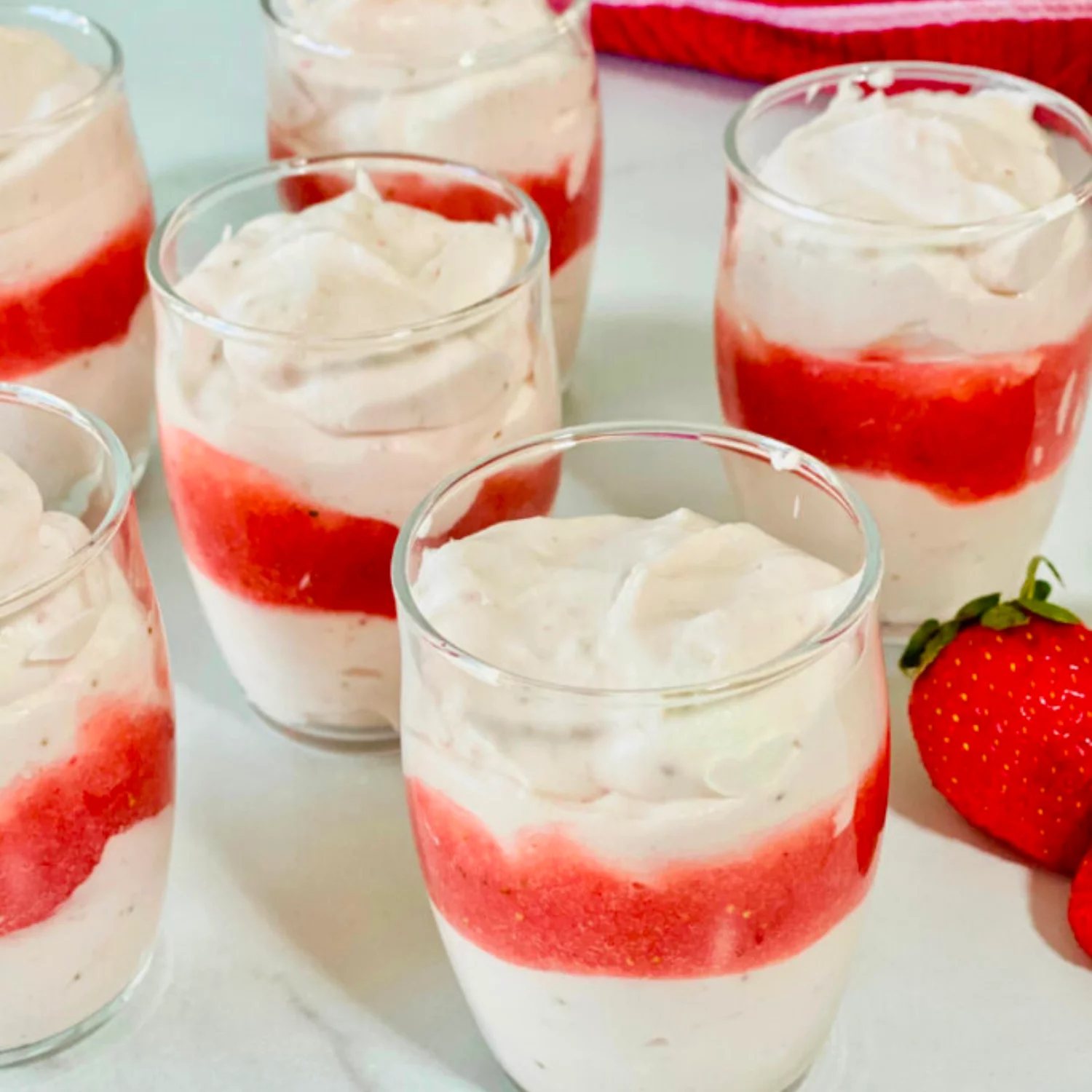 22. Fresh Strawberry Mousse Parfaits – These pretty pink strawberry mousse parfaits are a fresh and light sweet treat. Only a few ingredients needed makes them the perfect easy make-ahead recipe for showers, brunch, or any party.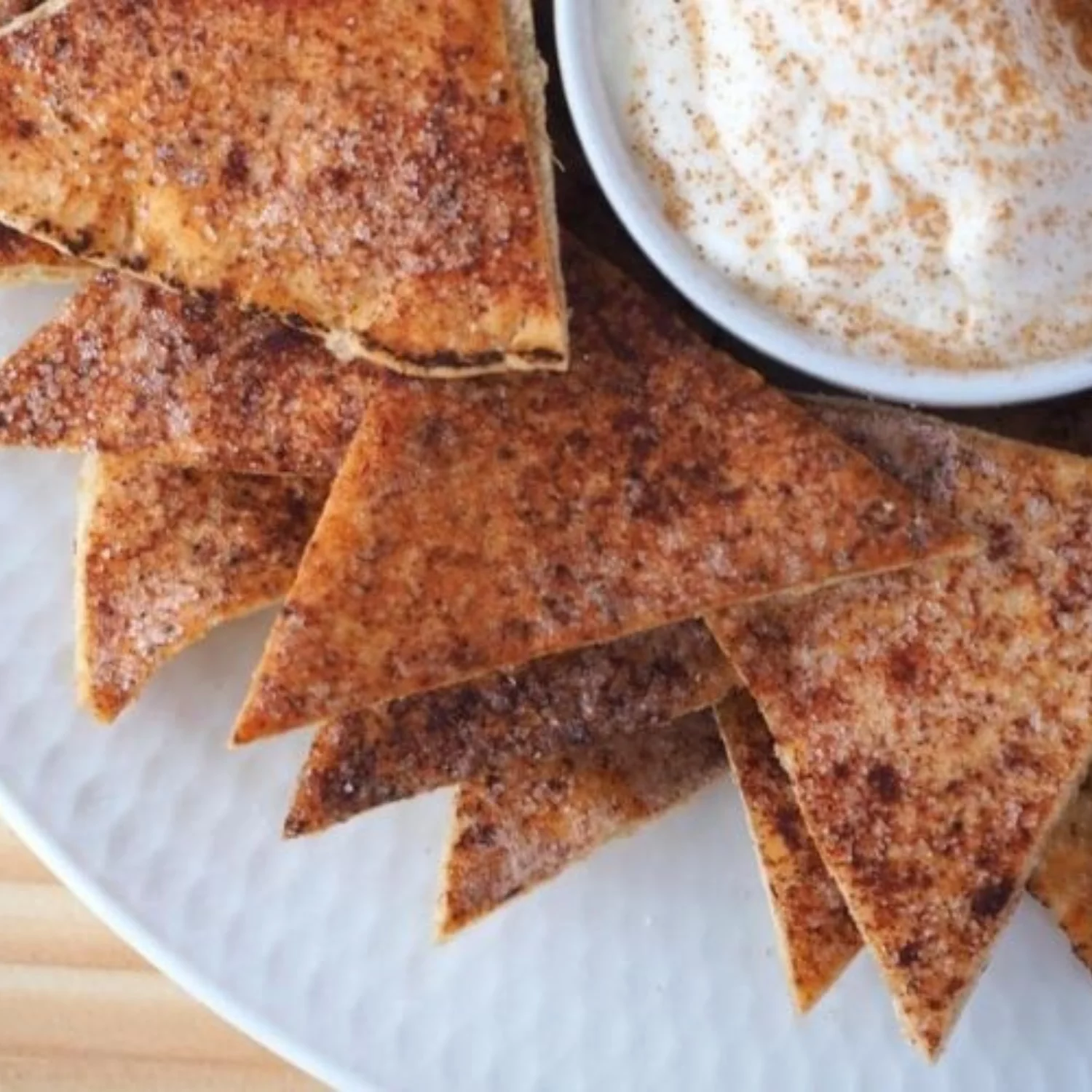 23. Cinnamon Sugar Pita Chips – These cinnamon sugar pita chips have just four ingredients, are quick and easy to make, and are completely delish. I challenge you to try and stop at just one!
24. Salads – Take your pick between taco salad to a beautiful green salad or even fruit salad! These are usually very budget friendly dishes to feed a crowd and are pleasing to the eye!
25. Pizza Rolls – Make your own dough for pennies and whip up some pizza rolls! Or for less work you can use refrigerated pizza dough. From a presentation standpoint, pizza rolls look much nicer on display that pizza slices!
26. BBQ Cocktail Smokies – Add something savory to the lineup with this tasty side! Simply add your favorite BBQ sauce in a crockpot with some cocktail smoked sausage links and you're DONE! A big perk about a crockpot for your baby shower on a budget is that they'll stay warm during the party.
27. Mini Macaroni & Cheese Cups – Is a party complete without something cheesy? Serve that homemade mac & cheese side that everyone loves in a portable finger-licking form with these mini cups!
28. Crispy Wonton Cups – The options are endless when you have an edible, crispy, vehicle for your food in a bite size form! I love this roundup from Taste of Home with 21 ways to fill and serve wontons!
29. Hot Dogs – Here's an affordable food to serve that is a little more hearty! You can pre-fill the buns with the hot dogs already inside for a quick grab & go to keep the line moving! Or amp it up and serve hot dogs inside a crescent or pretzel dough.
30. Muffins – If you're planning a baby shower on a budget during the morning hours, don't skip the muffins! The options are endless, you can make them ahead of time, and they won't cost much at all to make!
31. Mini Cheeseburgers – Don't stress, you will NOT have to grill up an army of cheeseburgers! You're going to LOVE these oven baked Mini Cheeseburger Sliders that will feed a crowd on a budget using ground beef, melted cheese, and buttery buns. YUM!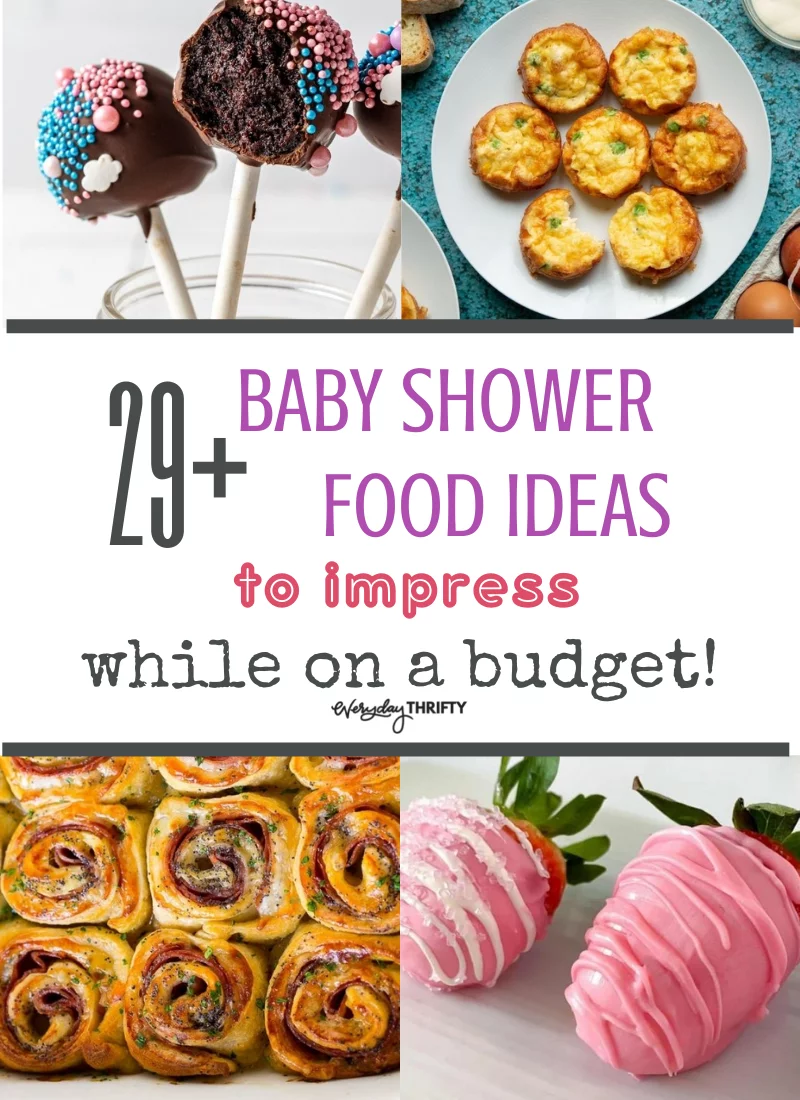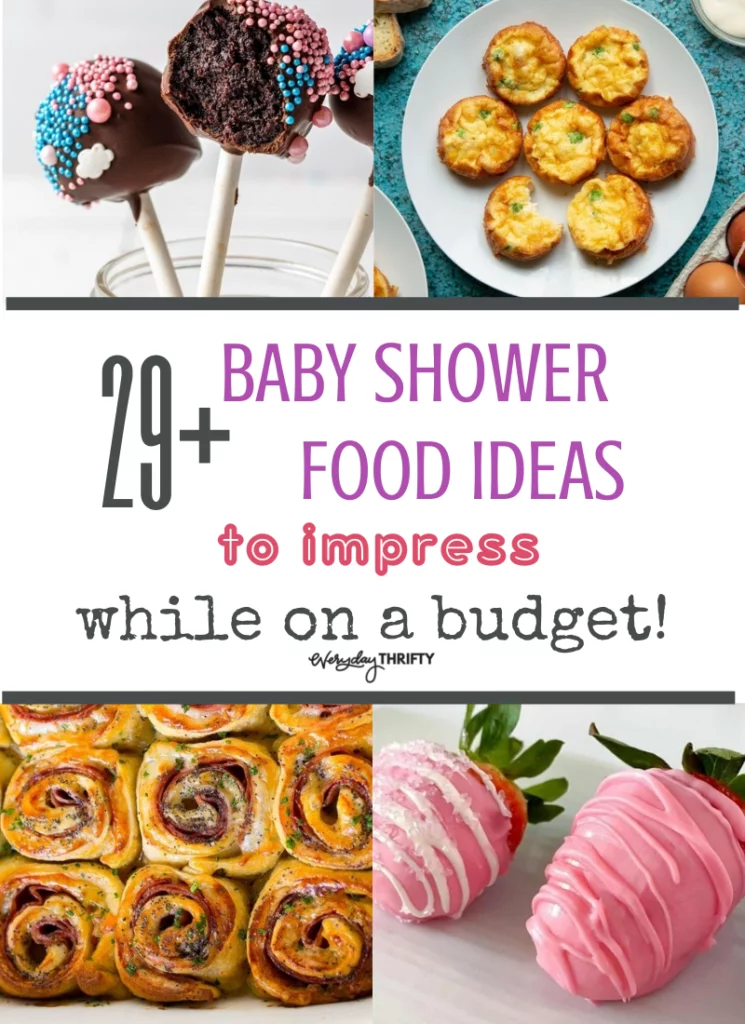 FAQs to serving Baby Shower Food Ideas on a Budget:
What are some cheap foods to serve at a baby shower?
Finger foods that have a mix of fresh and pantry ingredients are great options to stay on budget at a baby shower. Seasonal produce is usually affordable and is simple pantry ingredients that'll leave your guests feeling satisfied!
What should I serve at a 2 pm baby shower?
Your best option for a mid-afternoon baby shower will be light snacks, finger foods, beverages, and of course dessert! Don't worry about serving a heavy meal as most people will have already eaten lunch by 2 pm.
How much food do I need for a baby shower?
When hosting a baby shower, you should anticipate that each guest will sample 3-5 food items at are available at the baby shower. When in doubt, plan for a little extra food than what you think you'll need. If you have leftovers, you can always send some home with people or easily freeze to enjoy at a later date!
Do you have to provide food at a baby shower?
You do not have to provide food at a baby shower. But the crucial factor in this decision is to make it very clear to your attending guests that food will not be provided! A middle-of-the-road option could be that you only serve cake and punch. But again, be sure your guests are aware of that before arrival. You don't want anyone to leave hangry!
Should you give party favors at a baby shower?
Typically, giving out party favors at a baby shower is not necessary. While it may a nice gesture to end the party with a send-off gift, you did a service to your guests by providing food and beverages, and probably a few fun games too! Most baby shower guests will not be expecting a party favor to bring home. But if you have room in your budget, it's a lovely thing to add in if you'd like!
Who pays for food at a baby shower?
The host that is organizing the baby shower typically pays for the food, decorations, and any other cost. It is not common for the mother or father to financially contribute to the expenses for the baby shower. The more people you can get involved to help host, the lesser you will pay if everyone agrees to split the costs evenly!
Hosting a baby shower for a mom is an honor! It is usually one of the most memorable moments for a mom-to-be. Knowing how to host a baby shower on a budget can be a little tricky so we hope this list has helped inspire you to have a wonderful time without breaking the bank!
For more ways to save money on a new baby, I post daily deals from popular retailers on my Facebook page Everyday Thrifty and I'd love for you to join! I love to help new moms easily save money on diapers, baby gear, educational toys, must-haves for new mamas & more!
Read Next::
36 Guaranteed Ways to Save Money on Baby!
12 Engaging Morning Basket Ideas to Try Today
How To Save $5000 in 3 Months: The Ultimate Checklist