We have two small kids, so we're always thinking of new ideas for having fun around the house, especially in the backyard. We've come to realize that there's a world of adventure right outside our house. The key is you have to know where to look!
No matter where you live on the planet, getting outdoors is a possibility no matter the weather patterns! There is always something you can do outdoors to burn off some energy and lift your spirits. You can enjoy an entire ecosystem of fun, inspiration, and creativity only a few steps away. 
To help you get inspired and to see the potential games, activities, and learning lessons that await you and the kids, we've put together a list of 50 Fun & Frugal Backyard Activities for Kids. Almost every idea on the list can be adapted to children of different ages. Yard size shouldn't matter much. And just about everything listed is completely free or, at the very least, budget-friendly! Let's go ahead and dive in.
This post may contain affiliate links which means that I may receive compensation at no extra cost to you if you make a purchase from a link found on my site. Please review my privacy policy for further details. As an Amazon Associate, I earn from qualifying purchases. Thank you for your support in allowing this site to continue!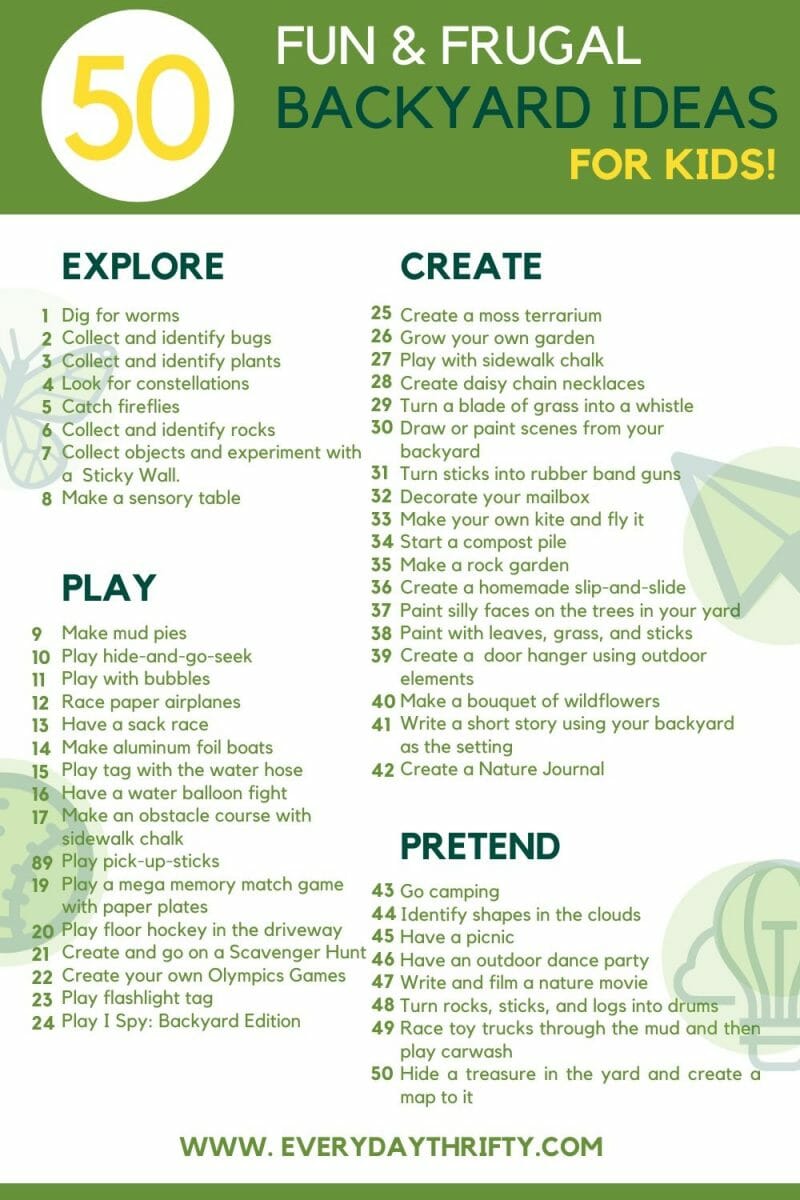 50 Fun & Frugal Backyard Activities for Kids
 Create a moss terrarium.
 Dig for worms.
 Collect and identify bugs.
 Collect and identify plants.
 Go camping.
 Look for constellations at night. Download this FREE SkyView app!
 Start a compost pile.
 Grow your own garden.
 Turn sticks into rubber band guns.
 Play with sidewalk chalk.
 Play tag with the water hose.
 Have a water balloon fight.
 Make mud pies.
 Catch fireflies.
 Create and go on a Scavenger Hunt. I love this one from Crafts on Sea!
 Collect and identify rocks.
 Create your own Olympics Games.
Place leaves, flowers, and grass on an outdoor Sticky Wall when you use contact paper!
 Identify shapes in the clouds.
 Create daisy chain necklaces.
 Turn a blade of grass into a whistle.
 Play flashlight tag at night.
 Play hide-and-go-seek.
 Draw or paint scenes from your backyard.
 Decorate your mailbox.
 Have a picnic.
 Race toy trucks through the mud and then play car wash.
 Hide a treasure in the yard and create a map to it.
 Play with bubbles. Check out these creative ideas from Red Ted Art!
 Fly paper airplanes.
 Make your own kite and fly it. Check out this fun tutorial from Buggy and Buddy!
 Have a sack race.
 Make aluminum foil boats and race them!
 Make a rock garden.
Create a homemade slip-and-slide. Check out this tutorial from Fatherly!
Make an obstacle course.
Play pick-up-sticks.
Play a mega memory match game with paper plates.
Paint silly faces on the trees in your yard.
Have an outdoor dance party.
Write and film a nature movie.
Paint with leaves, grass, and sticks to create interesting patterns.
Play floor hockey in the driveway (all you need are a few brooms and a ball).
Create a door hanger using outdoor elements.
Make a bouquet of wildflowers.
Make a sensory table with rocks, grass clippings, pine cones, etc.
Write a short story using your backyard as the setting.
Play "I Spy" Backyard Edition.
Turn rocks, sticks, and logs into drums.
Create a Nature Journal. Head to Rhythms of Play for inspiration!
We hope that you've been inspired to see all the awesome possibilities just outside your front door with our list of 50 Fun & Frugal Backyard Activities.
>> Grab this FREE PRINTABLE LIST for easy reference <<
We stopped at 50 because, but hey, you've got to stop somewhere, right? That being said, let's keep the list going. What are some fun ways YOU enjoy the great outdoors with your kids? Share below in the comments!