So you want to declutter and make some extra cash but you're not sure how to set up a garage sale without tables, right?!
Garage sales are a fantastic way to get rid of unwanted items while generating a little side income. You can use your hard-earned cash to build an emergency fund, pre-pay bills, begin saving up for a debt free Christmas, or have some extra spending money when planning a family vacation on a budget.
However, setting up a garage sale or yard sale (also known as a rummage sale) can be a bit of a challenge. This is especially true if you don't have any tables to use. But don't worry, this article was written specifically to show you how to set up a successful yard sale without tables.
From creative display ideas to alternative options, we've got you covered. So get ready to get rid of some things you don't need and make some extra money fast.
This post may contain affiliate links which means that I may receive compensation at no extra cost to you if you make a purchase from a link found on my site. Please review my privacy policy for further details. As an Amazon Associate, I earn from qualifying purchases. Thank you for your support in allowing this site to continue!
10+ Tips on How to Set Up a Garage Sale Without Tables
Maybe you decided to have a garage sale but don't have tables to set items on or just don't have enough table space. That's okay because most of us don't have long folding tables at home. And, there's no sense in buying tables just to have a yard sale. They're not always easy to store. Plus, they'll cut into your profit.
Plenty of people have yard sales without tables. With that in mind, we've compiled some of the most helpful tips for displaying garage sale items when you don't have much table space (or any at all!). Here are some of the best ways we've found to set up a yard sale without tables.
1. Use an Clean, Mesh Trash Can
To kick off our list, we'll start with this tip to hang jewelry. It's a favorite among yard sale enthusiasts because it's really ingenious, solves a real problem, and is incredibly simple.
All you need is a clean wire mesh trash can that can be set on top of a stable surface such as furniture you might be selling or you can even set it directly on the ground. From there, simply display your jewelry using the holes in the mesh surface of the trash can.
2. Use PVC Pipes as a Clothing Rack
One way to hang clothes for your garage sale is to use PVC pipe. You can run the pipe between the rungs of a couple of ladders and dangle items on them or hang all the clothes on hangers on the pipes.
This solution is easy to dismantle, too, which is helpful when you're tired and tearing everything down at the end of a long day of selling.
3. Use Rope as a Clothing Rack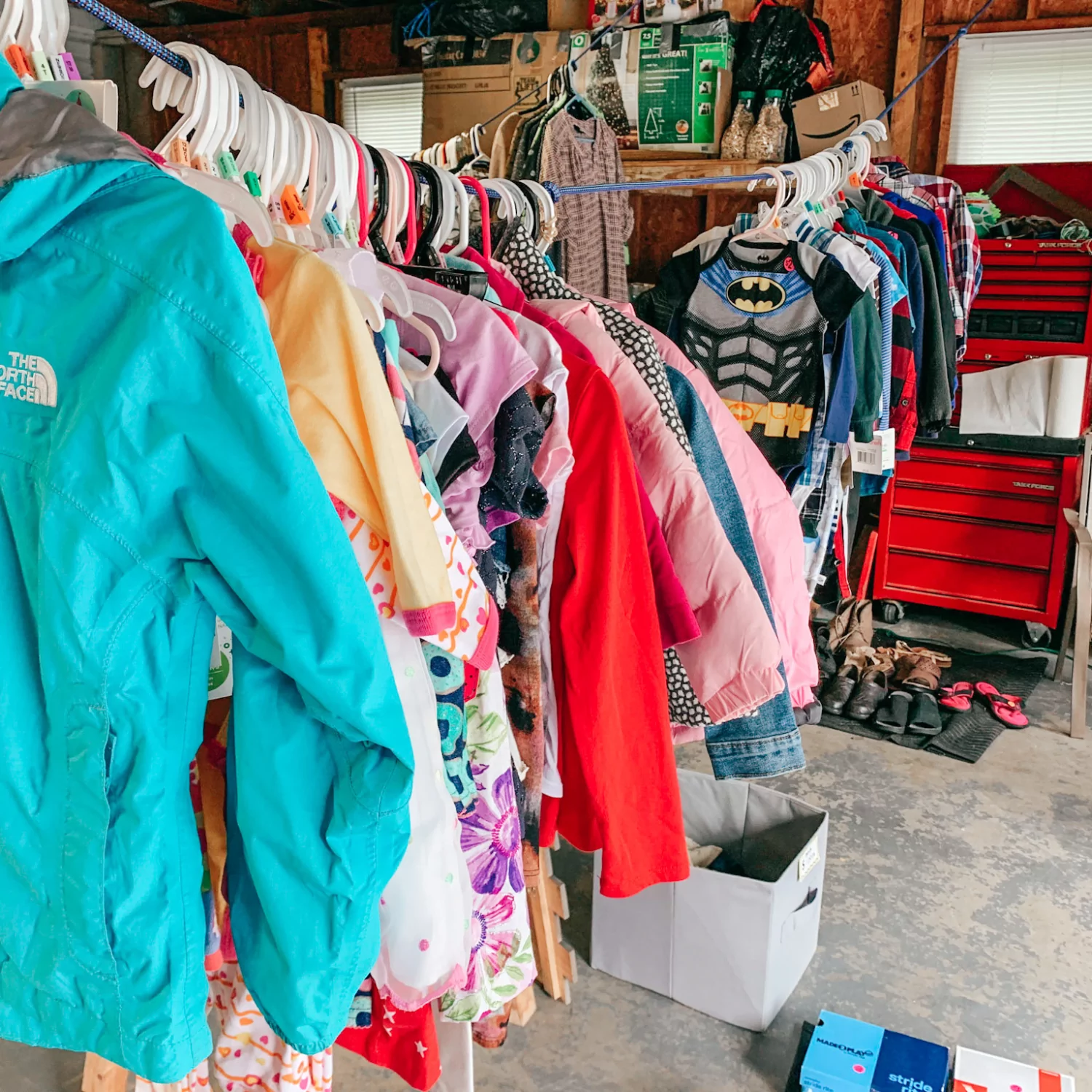 If you don't have PVC pipe, you can actually use a piece of rope as a clothing rack. The option works best if you're displaying items in a garage. Ideally, you'll want to tie the rope to the rafters for maximum support. To create sections for your clothes, tie knots in the rope before attaching it.
4. Use Two Ladders and Some Boards to Display Your Garage Sale Items
Most of us have ladders around the house, and if you have some longer boards, you can run the boards between the two ladders and prop them on the steps to make your own tabletop.
This garage sale setup allows you to display children's toys, baskets, decorative boxes, home decor, and other yard sale items that aren't breakable. You could also use ladder rungs for displaying items like clothes and even decorate the ladders with colorful paper.
Stay away from displaying glass, ceramic, and other items made from breakable materials in case the boards slip or someone bumps them. Or, if you would like to display fragile items on your ladder boards, consider using something like grippy shelf liners to better secure your items and prevent an accident.
5. Display Yard Sale Items on Your Car
Ok, sometimes you need to get creative when you're trying to figure out how to set up a garage sale without tables. Just be careful with the items you display on your car because you don't want sharp things to scratch the paint.
But using your vehicle is a smart way to display yard sale items out in your yard. And, if you have a truck or SUV with a big truck you can use this space to your advantage to display heavier items.
6. Use Pallets for Setting Up a Garage Sale Without Tables
Wooden pallets are incredibly versatile! You can use them for so many things, including a garage sale. You can even stack them up, so people don't have to bend too far down to look at things.
This solution is perfect for putting out shoes and folded adult, children, and baby clothes. You can even cover the top of the pallets with blankets or paper to protect your yard sale items from snagging on rougher pallets and keep them in good condition.
One important tip is to always keep things organized as much as possible! If you're displaying clothing, try to group together clothing by categories such as: women's, men's, boy's, girl's and even by sizing (especially with baby and toddler clothing).
7. Drape Blankets, Beach Towels, or Tarps Across the Ground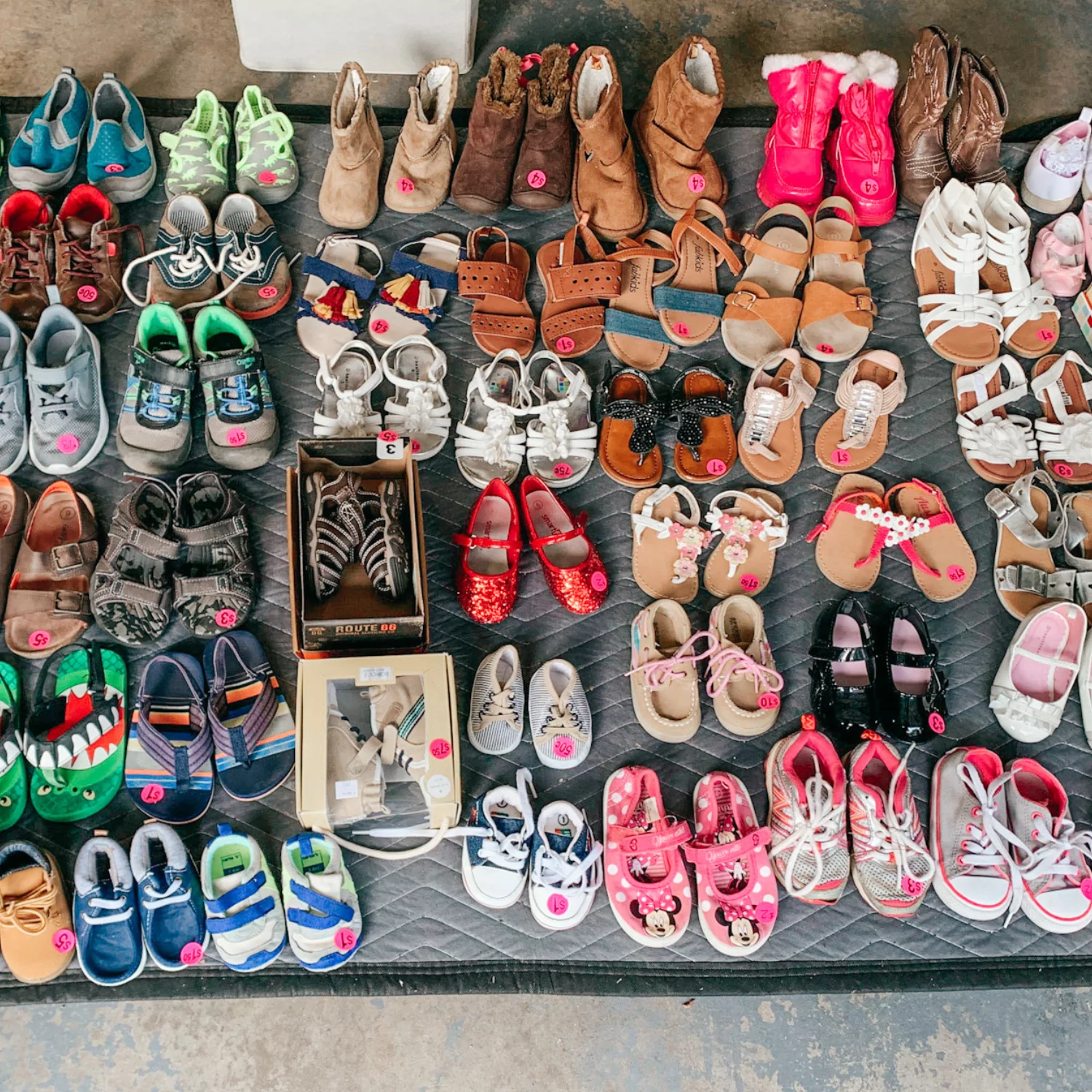 Another great way to display items for your yard sale is to lay blankets, beach towels, and/or tarps across your yard. Then potential buyers can easily see similar items grouped together, and it prevents your things from getting dirty or damp in the morning dew. That'll allow your second-hand treasures to look their best and sell for the most profit.
8. Use Cardboard Boxes
Just about everyone has cardboard boxes lying around the house. If you know you're having a garage sale in a few weeks, you can save all the boxes your online orders come in.
Upside-down cardboard boxes are perfect for displaying adult and children's clothes, small toys, and other household items. The sturdier the boxes, the better, but you can place lighter garage sale items on even flimsier boxes.
You can also display books and similar inside the boxes or totes with the spines up so people can view them easily.
9. Use Two Saw Horses With Boards or a Closet Door
If you have some saw horses in a barn or shed, you can use them to hold up boards, an old closet door, or something similar. This idea is perfect for a garage sale without tables and provides a strong sturdy surface for heavier items or glass and other breakable items.
10. Display Yard Sale Items in Suitcases or Trunks
Suitcases and trunks are great places to lay things you're selling out in or even display them on top. If you have vintage suitcases, you can really make attractive displays by stacking them up or propping them open. In short, suitcases make excellent displays when you're having a garage sale without tables.
11. Stack Wooden Crates
Wooden crates make the perfect prop for shoes and clothing accessories. You can set them horizontally on the side and line up shoes and boots inside.
Wooden crates that held glass bottles are perfect for organizing accessories like umbrellas, gloves, and more, and you can display sunglasses on top.
12. Use Plastic Bins and Totes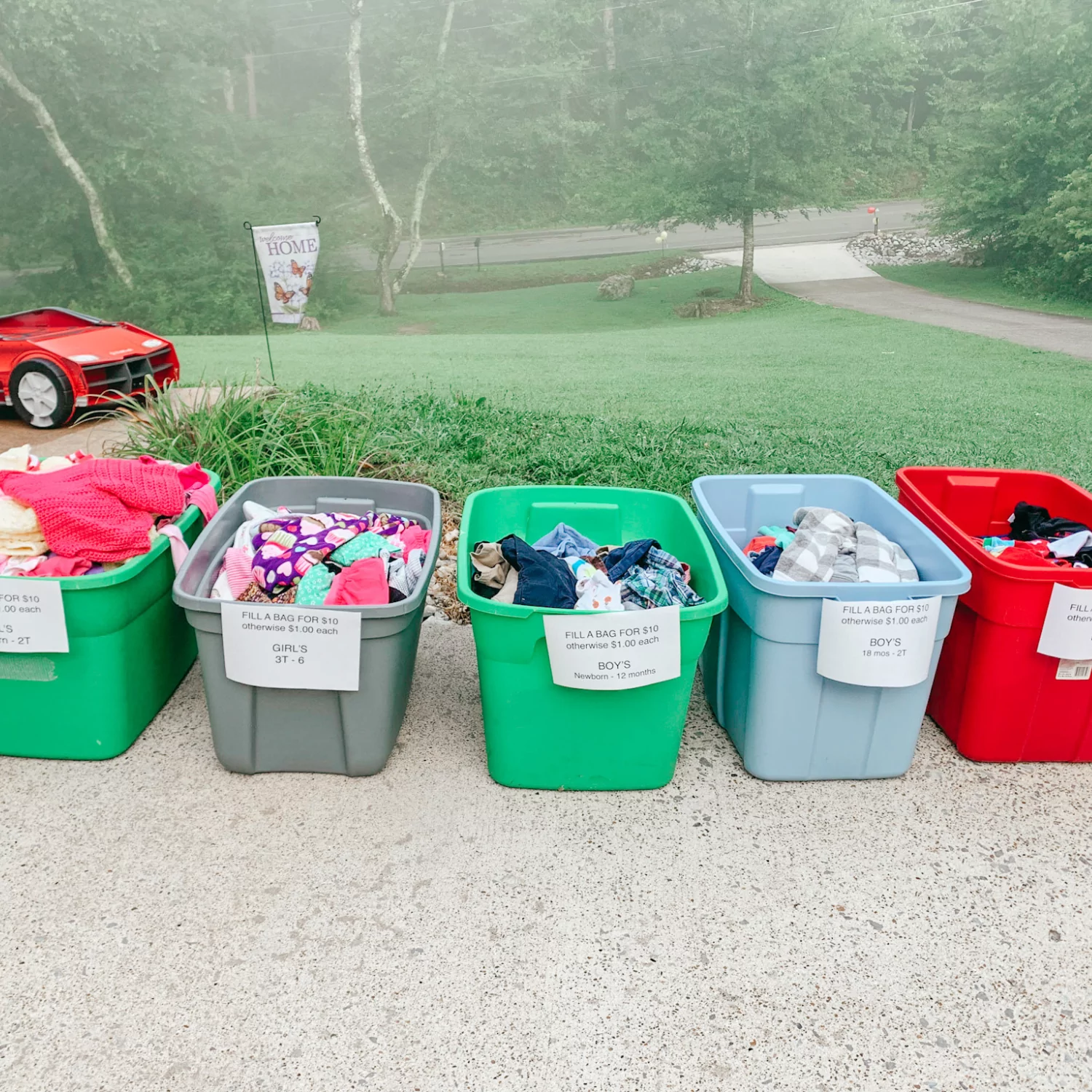 Plastic bins are always great for displaying yard sale items like books, toys, clothes, home decor items, and other things you want to keep dry because you can always put the lid on if it starts to rain. Or you can throw shower curtains over the boxes if you can't find the lids.
You can also use plastic milk crates for hats, shoes, or free items people can just take.
To reiterate again, organization is KEY at a yard sale, especially if you're going to use storage bins! Don't make it look trashy or people will NOT want to stay to look. Good organization invites them to dig inside. You can print off some labels as pictured above to inform them what they'll find inside!
If you have a lot of clothing to get rid of, consider doing a "grab bag" bargain where you can hand them a small grocery bag and they can fill the bag for $5 (reference photo above).
13. Repurpose Furniture
Repurposing your furniture is another smart way to display things when you need ideas for how to set up a garage sale without tables. You can take the drawers out of a dresser and use the inside to showcase glass, ceramic, or other delicate household things for sale.
Of course, you can also use a bookcase if you have one you don't mind placing it outside. You can even sell the bookcase once you're finished with it! Furniture, particularly tall items, can also be used for displaying yard sale signs, making it easy for people to see them when you're selling without tables.
14. Consider Renting Tables
You may also want to look into renting yard sale tables. Your local party supply store or event supplier probably has tables you can rent though it might not be that cost-effective.
And if you attend church regularly, your may be able to borrow tables from there or even friends to save money on a tight budget.
15. Display Items Directly on the Ground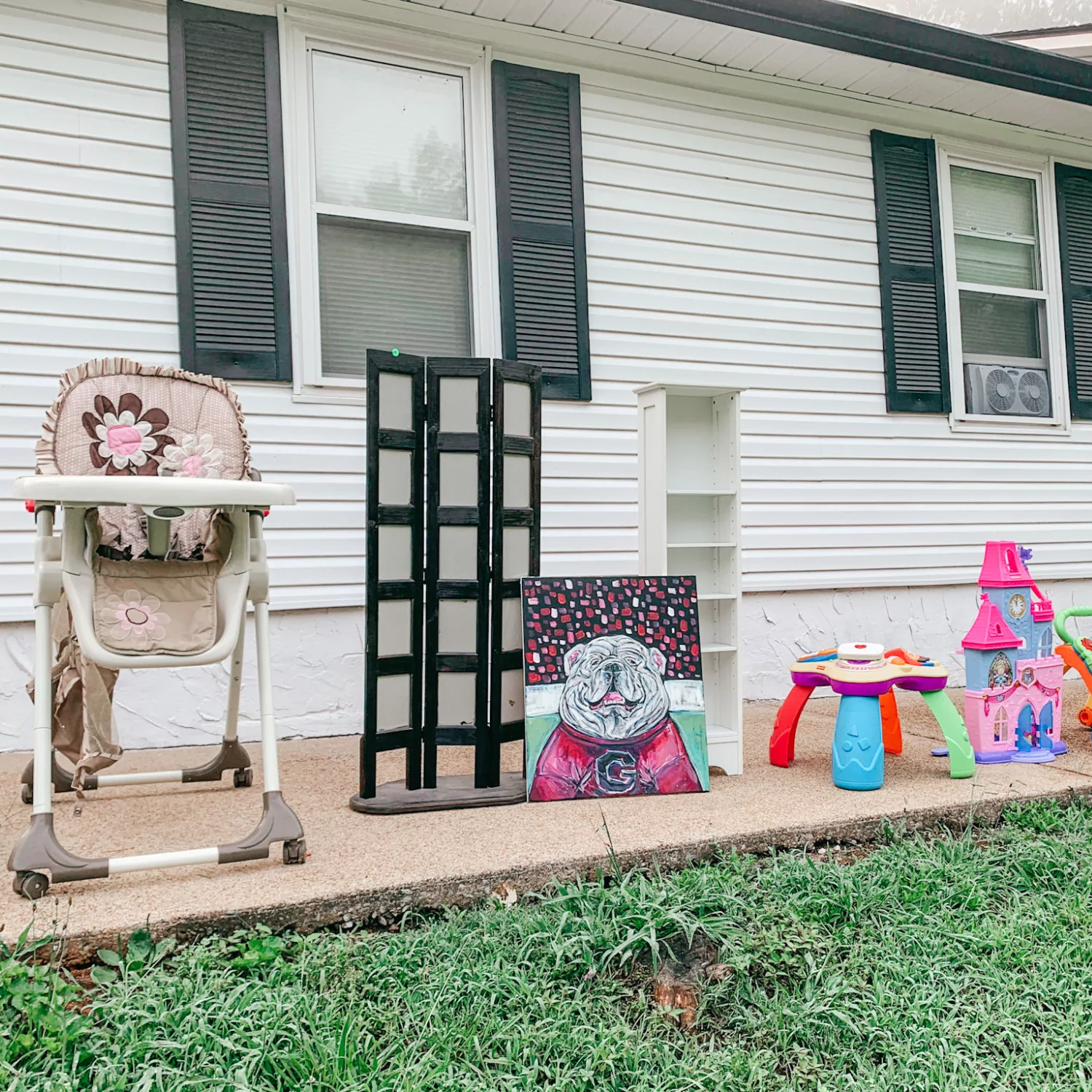 Bulky or oversized items will take up what little raised space you have at your next yard sale. Place those bigger items directly on the ground in an attention grabbing, visible space! This is great advertising if you can catch the attention of cars by not only relying on the yard sale signs you have displayed but also by seeing your items!
Be careful not to create a hazard by putting them too close to your designated parking area for guests. And keep it as neat as possible! Strategically place your most appealing items near the front so that it may bring in more foot traffic.
Big items that will instantly get visitors' attention are:
Tools
Furniture
Exercise Equipment
Outdoor Toys
Gardening Tools
Camping Gear
Appliances
These items will really draw a crowd if you place these items on the ground facing where your traffic source will be.
Bonus Yard Sale Tips
Decorate Your Yard and House
You can really have fun with your yard sale if you decorate your house and yard and make an event out of it. Think about how much you like shopping in pretty stores and how that dresses the things for sale up.
It's one of the best ways to make everything attractive, even at a yard sale without tables, so you can sell more and make some extra money.
Don't Put Clothing Items on a Table
If you actually have a few tables you can use, don't waste the space with clothing items because there are much better ways to display clothes, such as hanging them. Plus, prospective buyers will make a mess rifling through them.
Put an Ad in the Paper or Team Up With Neighbors
And to drum up more business, consider putting an ad in your local paper or Saturday morning paper. You can also get together with your neighbors and have a multi-family yard sale. It's a great way to attract more customers without breaking the bank.
Post Your Garage Sale on Facebook
While putting an ad in the paper is the most traditional way to advertise a yard sale, social media is easier and will reach a larger audience quickly!
Take a few photos, especially with your most desirable items in view. Then write a caption that clearly displays important information such as:
Garage Sale Dates
Garage Sale Times
Garage Sale Location
Quick rundown of items you have (for example: baby and toddler boy clothes up to 4T, lawn mower, vintage casserole dishes, etc)
No holds / first come first serve (I strongly suggest this because many people unfortunately will stand you up online and you don't want to be glued to your phone attempting to make sales online simultaneously)
Best places to list your garage sale on social media:
Your personal timeline on Facebook
Your Instagram feed
Facebook and/or Instagram Stories
Local Yard Sale groups specific to your community
Local Mom's Groups (double check group rules first)
Facebook Marketplace
If you're active on Facebook, I post money saving tips and daily deals from the biggest retailers every single day! I'd love for you to come follow along. Tap the button below!
FAQs on How To Set Up A Garage Sale Without Tables:
What is the fastest way to organize a garage sale?
If you're trying to organize a yard sale quickly, you'll likely have to skip the advertising. But that doesn't mean you can't create a buzz. Use word of mouth to let friends and family know you're having a yard sale and to pass the word along. You'll also want to make plenty of signs to place at intersections close to your house to let people know there's a sale. Post those signs as early as you can.
Then it's about deciding on what you want to sell and setting up your yard sale as fast as you can. You can save time by not pricing each item; see the tip below for more information.
How do I have a garage sale without pricing everything?
Pricing things individually can take a long time, so here are some other ways to do it. Put smaller items like books or knick knacks in a box or tote, or bundle articles of clothing together and put one price tag on it such as: $1 each.
Consider doing this a few days before the garage sale because you'll likely be overwhelmed with everything you have to do the day of the event.
What is the rule of thumb for garage sale pricing?
You want to be sure to offer things at a fair price. You'll have better luck selling things because while yard sales are great for making some money, it's often more about getting rid of things you don't need.
The general rule of thumb is to price things at 5 to 10% of an item's retail store price. People won't pay high prices for second-hand things. Higher-priced items can be sold at flea markets or online marketplaces like Facebook Marketplace, Poshmark, or eBay.
Check out these pricing stickers to use for your garage sale. And don't forget to have a safe place to keep your money in such as a cash box with a lock.
What should not be at a garage sale?
While a yard sale is a great way to get rid of many things, here are some things that usually won't sell well that you should just toss or donate.
Old TVs
Old Electronics
Mattresses
Cosmetics
Cups & Mugs
Bike helmets
Paint
Bathing suits
Undergarments
Computers
Textbooks
Propane tanks
Used Breast pumps
Final Thoughts on How to Set Up a Garage Sale Without Tables
While yard sales can be tiring, they are great ways to make a couple of hundred dollars fast. And you can totally have a successful garage sale without tables.
Whether you use your vehicle, ladders and boards, cardboard boxes, wooden crates, or something else, you can get creative with ways to display items. I hope these tips help you have fun and make even more money selling things at your next yard sale.