If you're looking for an effective way to stay fit without breaking the bank, then building a minimalist home gym is the perfect solution.
Many people believe that they need to go to the gym to have an effective workout. But you can achieve your fitness and health goals from the comfort of your home. And, the best part is you don't need a bunch of equipment to do it!
Many people find that they actually have better sessions at home with less equipment once they try it. When you exercise at home, you don't have to worry about figuring out the equipment or navigating a bunch of people.
So, if you're looking for a budget-friendly way to get fit from home, then keep on reading! I am breaking down how to build your minimalist home gym for $200 or less.
This post may contain affiliate links which means that I may receive compensation at no extra cost to you if you make a purchase from a link found on my site. Please review my privacy policy for further details. As an Amazon Associate, I earn from qualifying purchases. Thank you for your support in allowing this site to continue!
How Can I Workout At Home On A Budget?
There is a misconception, especially amongst beginners, that you need to go to the gym and use all the fancy equipment to lose weight, build muscle, and get healthy. But, there are a lot of ways to accomplish these goals with a small, minimalist home gym instead.
Some common home workout styles include:
yoga
pilates
plyometrics
bodyweight
weights
and more
All of the equipment that is recommended is initially versatile, so you can target different muscle groups and try a variety of exercises. That means you plan to do yoga on Monday and weightlifting on Tuesday all with one simple, minimalist home gym!
You can invest in larger workout equipment such as a treadmill, stationary bike, or home gym system which pays off in the long run if you use them often! These will amp up your results and you can find some that are quite compact! For example, check out these stationary bike results which may help you decide if that equipment is right for you.
If you are looking for some guidance on exercises you can do from home with minimal equipment, check out this poster combination from Amazon. It includes full routines that you can do with kettlebells, exercise balls, and more.
As far as having a workout program to use, there are so many options! You can find endless free programs on YouTube and Pinterest. Or other popular programs that you typically have to pay for would be through Get Healthy U TV, BODi, Peloton, and Apple Fitness+.
What Are The Benefits Of Working Out At Home?
If you're short on time, then you will find working out at home to be very beneficial. It's a lot easier to squeeze in exercise when everything you need is at home. This eliminates the need to plan or arrange a time to go to the gym.
Furthermore, working out at home can save you a lot of money. Gym memberships can be expensive, and not everyone can afford this monthly expense. Plus, even the basic memberships that appear affordable can come with hidden fees and long contracts. Opting for a small and simple home gym instead is a perfect way to stay both fit and frugal.
What Do You Need For A Minimalist Home Gym?
Remember, we aren't aiming to build a full gym replacement here. Rather, we are focusing on just a few essential things that will help you do effective workout sessions from the comfort of your own home.
All you need to build a minimalist home gym is:
a small space within your home
equipment and gear
a place to store your stuff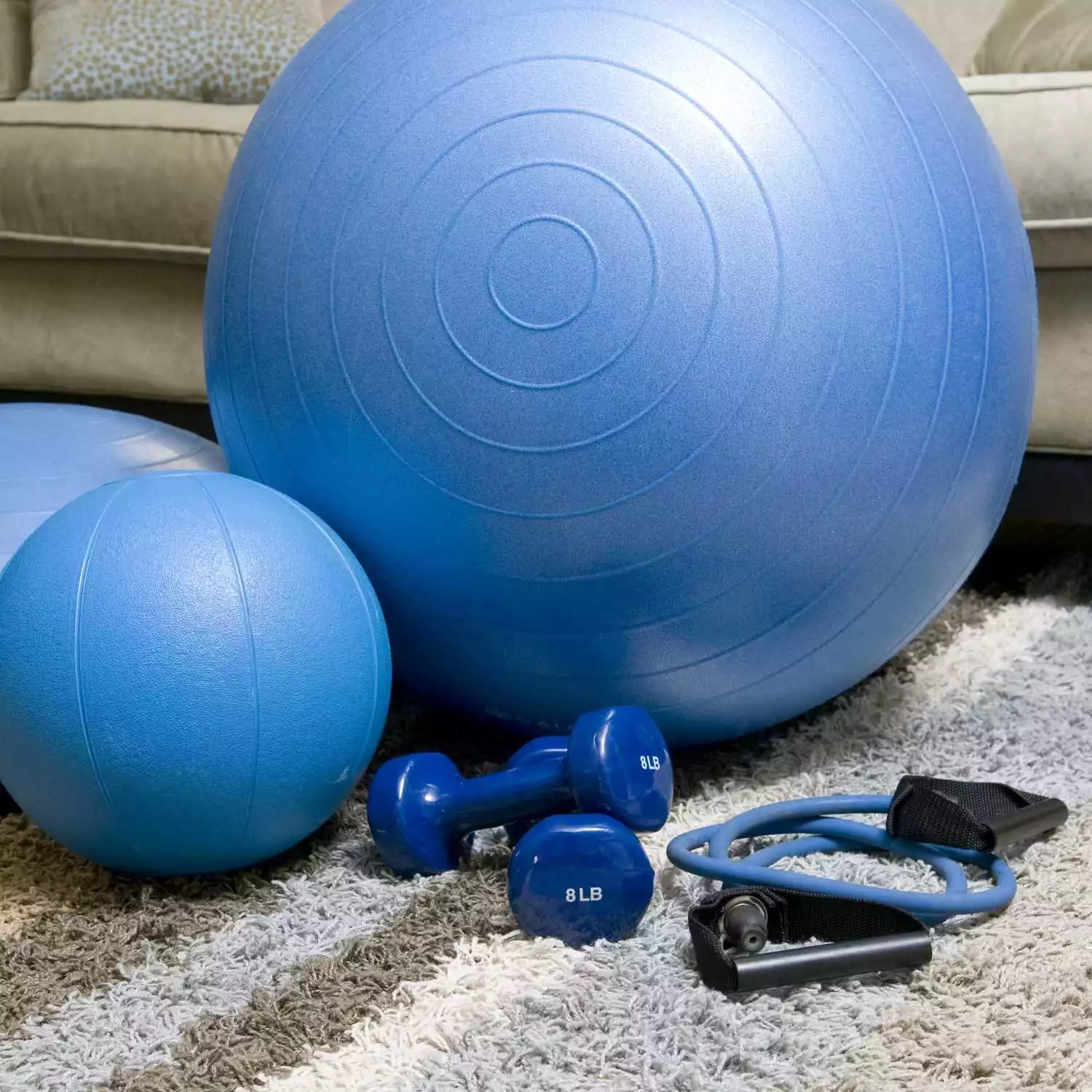 How Much Will A Minimalist Home Gym Cost?
Honestly, you can set any budget for your home gym and make it work. I've seen people get started with just $50. Then, they typically add to their equipment collection over time.
If you want everything that we are recommending in this blog post, you will want to budget about $150 – $200.
How To Find Space For Your Minimalist Home Gym
If you have a spare bedroom or even a corner of a room that's not being used, then you're set for space. But, if you don't have the luxury of an extra room in your home, that doesn't mean you can't make it work. You just need to get a little bit more creative.
Here are some of our top ideas: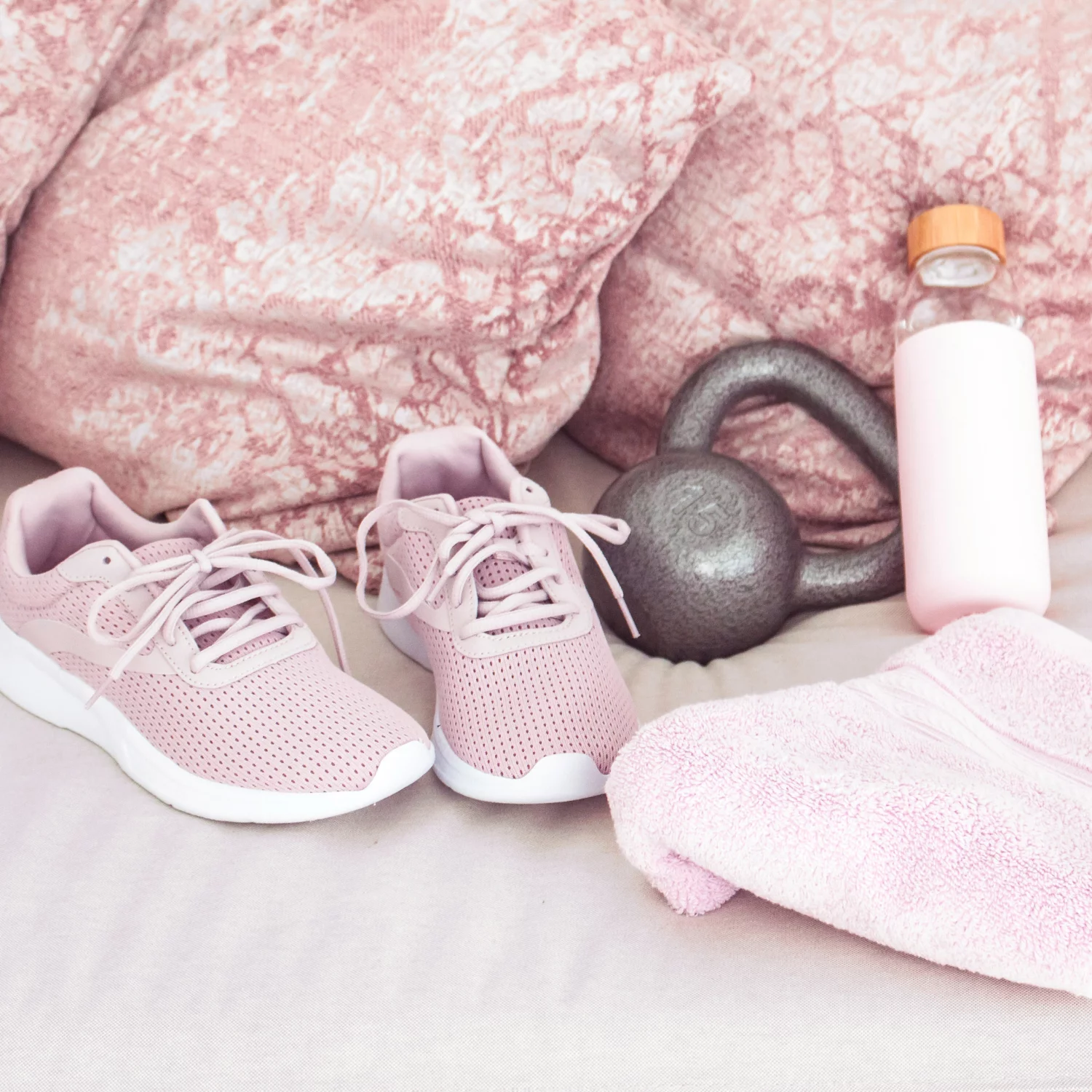 Consider Closet Space
Do you have a spare closet in your home somewhere? If you do, then you can use this space to store your equipment.
If you have a large closet available, like a walk-in closet, you might even choose to exercise right inside the closet. This can work well as it will give you added privacy and keep your equipment neatly tucked away.
Rearrange Furniture
You'd be surprised how much space you can find in your home simply by rearranging furniture. You can do this in your bedroom, living room, and so on.
This can be something temporary you do each time you work out. Alternatively, if you are able, you can make a permanent change to your furniture layout.
Declutter
Would you be able to make a small home gym space for yourself if you decluttered some things from your home? If you answered yes, then take some time to declutter.
You might also consider consolidating your storage into one area or a smaller area so that you can open up some space for your home gym.
Minimalist Home Gym Equipment
Once you have your space all sorted out, it's time to decide what equipment you want for your minimalist home gym.
Now, it is worth pointing out that you don't need any equipment at all to work out at home. Some people use items from around their home as weights or bath towels as sliders. However, having a few simple pieces of gym equipment can elevate the kinds of exercises you can do and their effectiveness.
Here are our top picks for minimalist home gym equipment.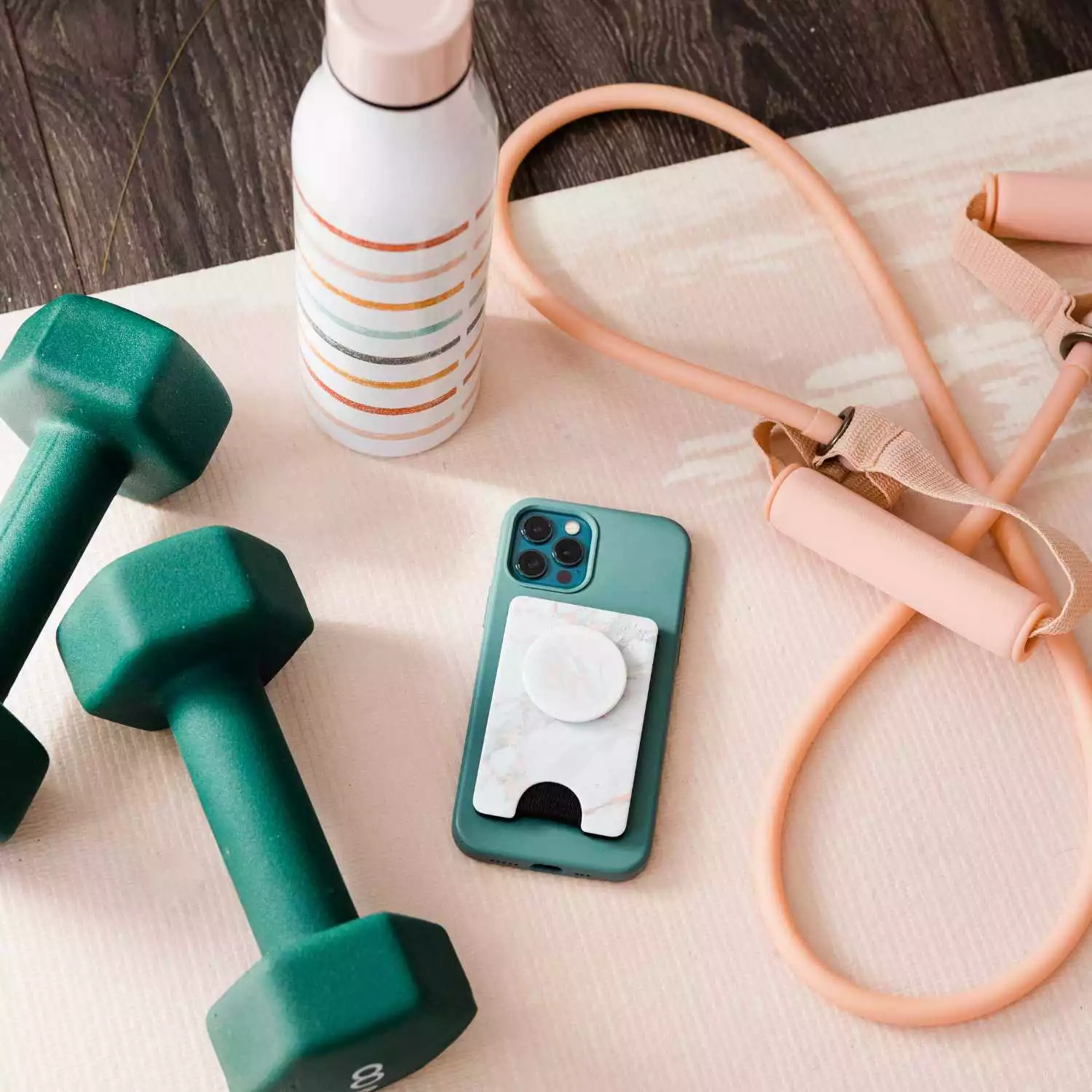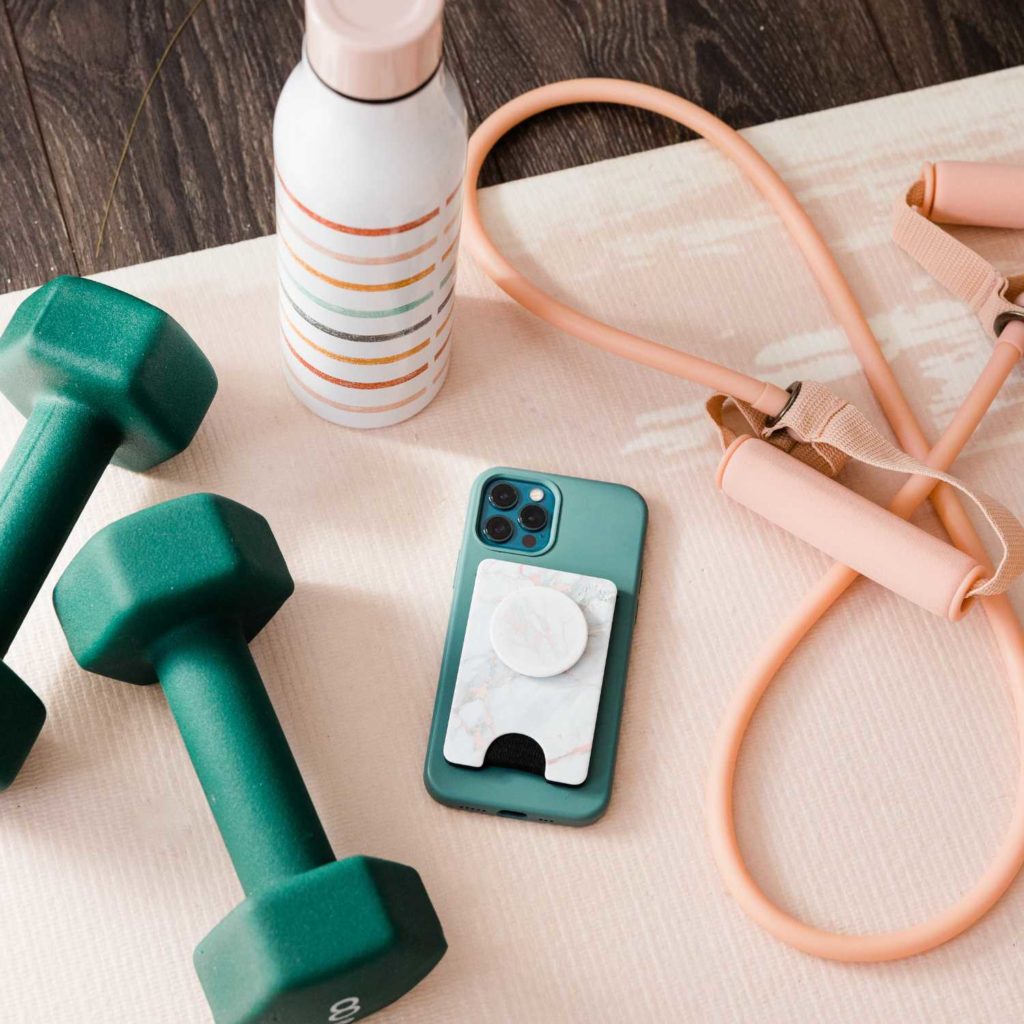 Resistance Bands
Resistance bands are incredibly versatile, easy to store, and don't cost a lot of money. That's why they are our #1 pick for your home gym equipment.
There are two common types of resistance bands:
The first is looped bands that come in different levels of resistance. These are great for exercises like side lunges, glute kickbacks, etc.
The second is more like a full-length elastic tube or stretchy bands. These can be used for exercises like squats, rows, and presses.
This type of resistance band can also be used with different attachments as well, such as ankle straps, handles, and so on. Using these attachments will increase the number of exercises you can do with the bands.
Dumbbells
If you want to do strength training as part of your exercise routine, then you will want to invest in some dumbbells. There are many different sizes, styles, and weights to choose from that can help you diversify your workouts.
Most beginner sets include 3, 5, and 8-pound weights. With a set like this, you can expect to spend anywhere from $40 – $60. These are great when you are just starting with your home gym.
This set on Amazon comes with 6 weights in total, two of each weight. It also comes with a stand for easy storage.
If you are looking for heavier weights, you will notice they get more and more costly. To make sure that you stay on budget, consider buying heavier weights (usually 10 lbs and up) secondhand from Facebook Marketplace, Craiglist, or your local thrift store.
Kettlebells
While kettlebells and dumbbells are very similar in that they are both used for strength training, kettlebells are more practical for certain kinds of exercises. This includes things like squats, presses, and so on. There are just certain exercises where dumbbells may not be ideal.
Similar to dumbbells, you can get kettlebell sets. These typically come in combinations of 5, 10, and 15 pounds like this one on Amazon.
Exercise Ball
While an exercise ball might not look like much of anything, it is actually a very useful piece of equipment.
What's great about this is that it can be used for a variety of different workout styles from strength training to yoga. You can also use it to do core exercises like crunches and planks.
This exercise ball on Amazon is a great budget-friendly option that comes with a pump and a guide.
Jump Rope
If cardio is an important part of your workout routine, then you might be wondering how to do this without a fancy treadmill, elliptical, or another large and expensive piece of gym equipment.
Skipping rope is an exercise commonly used by athletes as it is an effective way to get your heart rate up, improve hand-eye coordination, and even improve your balance. This makes it a great addition to your minimalist home gym.
You can get a quality jump rope for less than $20, and, best of all, they don't take up a lot of space which makes them incredibly easy to store.
Foam Roller
Another essential item for your home gym should be a foam roller. Incorporating this piece of equipment into your home workout routine will help you to reduce tension in your body and increase your flexibility. Many people use this as part of their warm-up routine or post-workout routine.
You can get this foam roller in several different colors. Plus, it comes with an eBook guide on how to get the most out of your foam roller.
Yoga Mat
Yoga mats are a great addition to your minimalist home gym. They give you a surface to work out on that can be easily cleaned and rolled up for storage. Plus, they add a little cushion to the floor which is especially helpful for stretching, doing a core workout while pregnant, and other exercises that involve getting down onto the floor.
There are so many different yoga mats that you can get, but this one on Amazon is both highly recommended and budget-friendly.
If you will be working out on a harder surface, like hardwood flooring, then you might want to consider a thicker yoga mat like this one. The thicker material will provide a lot more cushion and support during your workout.
Minimalist Home Gym Storage
Once you've chosen what equipment you are going to get for your minimalist home gym, then you should consider some storage options.
Keeping your workout area and gear organized will help you stay motivated and avoid the area looking cluttered or messy. This is especially important if will be using a common space in your home, like your living room.
Here are our top budget-friendly recommendations to keep your minimalist home gym clean and organized.
Rolling Cart
When it comes to versatility and cost, it's hard to go wrong with a rolling cart. What's nice about this storage solution is you can easily move the cart around your home to whatever area you can work out on that day.
Most rolling carts include shelves that you can use to store items like your dumbbells, yoga mat, and so on. They also typically come with hooks on the side which you can use to organize your resistance bands, jump ropes, and other similar items.
This rolling cart on Amazon costs less than $50 and comes in 5 different color options you can choose between.
Yoga Mat Storage Rack
If you want something larger and more heavy-duty, then you could consider a yoga mat storage rack instead. These are built with a stronger structure which is good for storing heavy equipment such as weights and dumbbells. And similar to the option above, there are included hooks where you can hang resistance bands and jump ropes. Baskets are also included for your other gear.
Another thing that makes this storage rack such a great option for this option is that the shelves are height adjustable. This is good if you will be storing a large item, such as an exercise ball, on the rack.
This option will typically cost a bit more than the roller cart. However, you can still find a good-quality one for less than $100.
This exercise storage rack is highly rated on Amazon and comes with all the features you need to store your minimalist home gym equipment.
Wall Mounted Rack
If you don't need to move around, or if you have wall space that you can use to store your equipment, then using a wall-mounted rack is a great option. Plus, this option is much more budget-friendly than the options listed above.
Most wall-mounted racks include
hooks for your resistance bands and hump rope
holders for your yoga mat and foam roller
and a top shelf to store your miscellaneous gear
And that is everything you need to set up your minimalist home gym!
I hope that this blog post has been helpful to show you that you don't need all that much stuff to set up an effective space in your home where you can exercise.
Read Next:
How to Save Money on Groceries: the ULTIMATE Guide!
The Ultimate Monthly Meal Plan On A Budget
New Year Money Challenge to Become Financially Free!