Once the weather turns warm, most of us begin to think about the outside of our house and coming up with backyard landscaping ideas on a budget.
Unfortunately, landscaping can often be expensive, so you may be wondering if there are any solutions out there that won't cost an arm and a leg. The good news is that there are plenty of affordable options for creating a beautiful backyard that'll be the envy of the neighborhood.
To help narrow down the options, we've created a handy little list of backyard landscaping ideas on a budget to help you choose inexpensive, yet impactful, options for your outdoor space.
This post may contain affiliate links which means that I may receive compensation at no extra cost to you if you make a purchase from a link found on my site. Please review my privacy policy for further details. As an Amazon Associate, I earn from qualifying purchases. Thank you for your support in allowing this site to continue!
How Do I Landscape My Yard on a Budget?
There are simple and time-tested hacks you can use to update your home's curb appeal on a budget. For example, you can freshen up the mulch around trees and shrubs, grow native plants that don't require a lot of water, improve edging, trim back dead tree limbs, and more.
The key is getting creative with your solutions and doing most of the work yourself instead of hiring someone. DIYing your own backyard ideas is much less expensive than paying a landscaper to do it for you.
You can even find yard decorations, outdoor furniture, accessories, and other landscaping features at garage sales to save money. Often with a little bit of elbow grease, used furniture and other secondhand items can look practically brand new.
Even if you don't have a "yard" you can still create a beautiful backyard oasis even if you have limited outdoor space. Check out these apartment balcony container gardening ideas to get inspiration!
Practical Backyard Landscaping Ideas on a Budget
You can stretch your dollar farther with the following cheap landscaping ideas to create your dream backyard. These gardening tips can help you save money when it's tight.
Before we jump into the list, don't miss becoming a follower of our Facebook page where we scour the internet for the newest and hottest deals from your favorite retailers! TONS of the items mentioned in this article are items we see go on sale often and share with our followers. So be sure you're following along so you don't miss out on these on cheap outdoor items!
1. Create a Walkway With Inexpensive Materials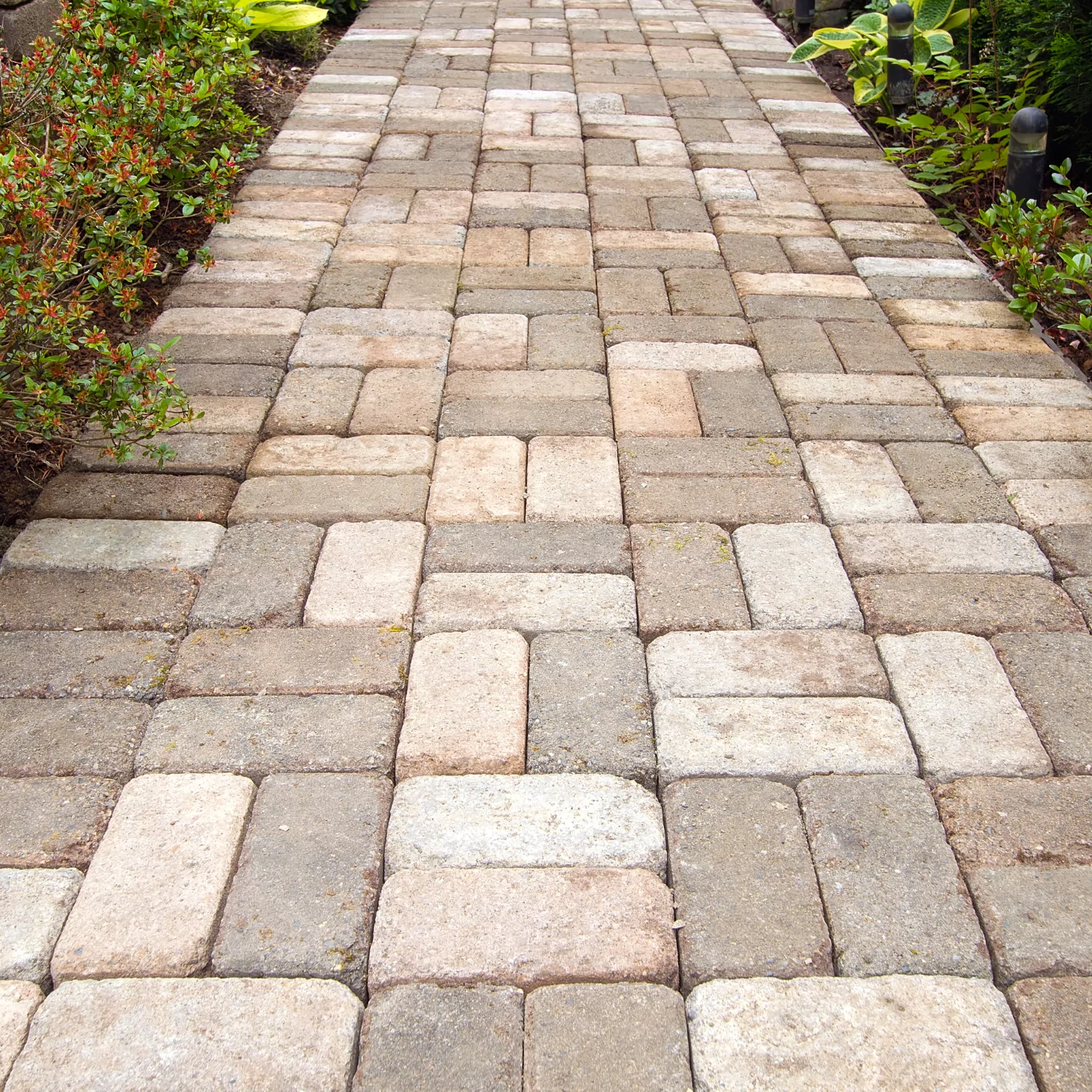 Stones or pavers make great inexpensive walkways. You can create your walkway to reflect a variety of styles. Whether you're going for rustic charm or sleek and modern, you can likely find affordable pavers to help you achieve the design you're looking for.
You can purchase stepping stones or pavers for your backyard space at your local home improvement stores like Lowes, Home Depot, or Ace Hardware. If you really want to create a unique, one-of-a-kind, look, look for stones in your local landscape to create a natural design.
Look along hiking trails and creekbeds for a variety of stone sizes, colors, and shapes. Just make sure it's legal to take the rocks in the area you choose. It may be prohibited in some locations.
2. Buy Simple Flower Pots
Upgrade the look of your outdoor room or deck with simple flower pots. You can purchase cheap flower pots at Walmart, dollar stores, Amazon, or home improvement stores. Just remember the more ornate and detailed the design, the more expensive the flower pot will be.
You can even create a DIY project by buying plain flower pots and decorating them with paint or designs with craft supplies if you like doing craft projects.
This idea doesn't take a lot of skill. With potting soil, some inexpensive perennial plants, and flower pots, you can create your own beautiful potted plant displays for your outdoor room or backyard makeover.
3. Decorate With Outdoor String Lights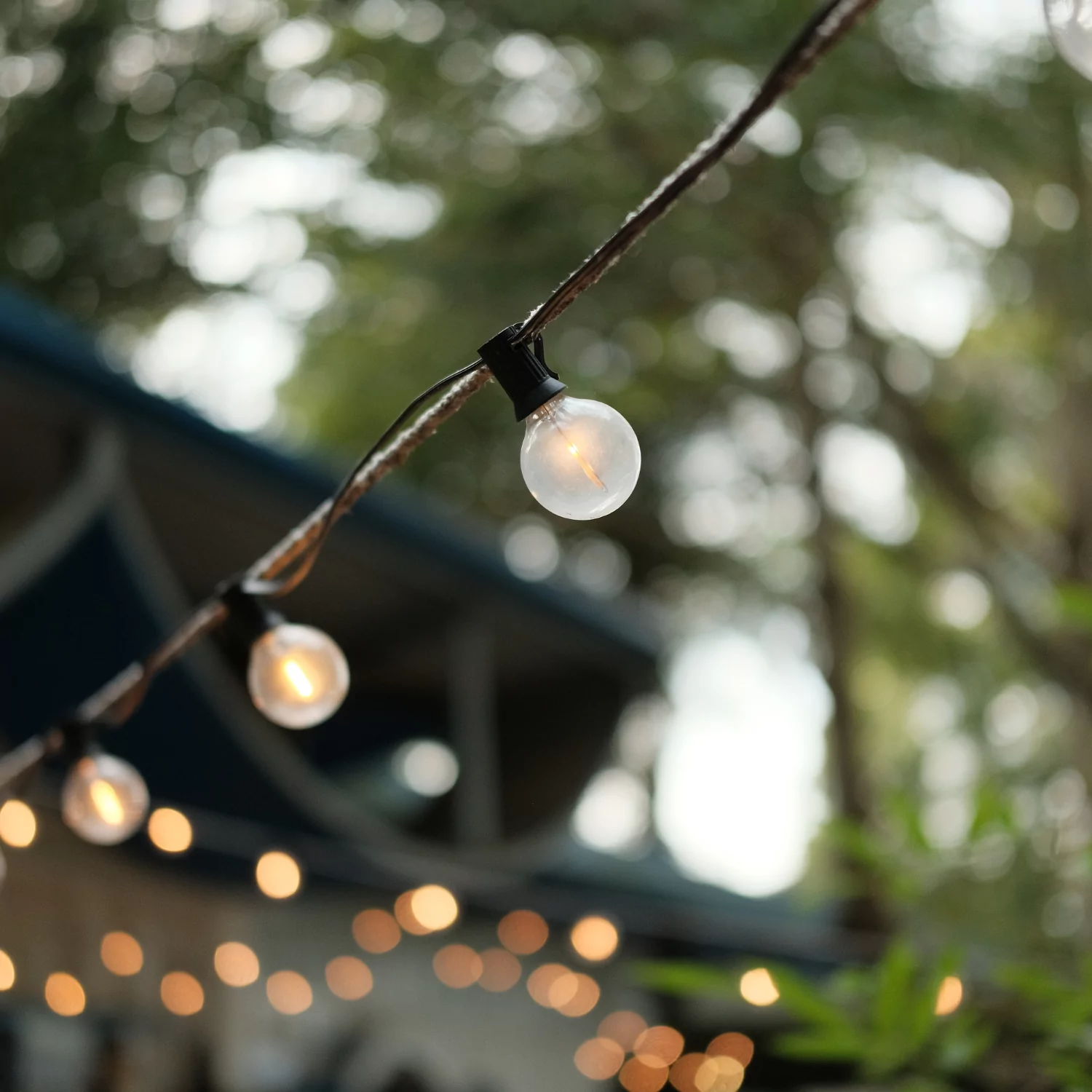 Another one of our favorite cheap landscaping ideas is using outdoor string lights around your backyard. You can use them in endless ways, from lining things in your outdoor space for pathway lighting or hanging them from trees like fairy lights.
You can even put them in glass lanterns to make them a focal point around your outdoor seating or throughout your backyard. Simple string lights are one of my favorite garden features we like to decorate with. And if you're in need of some garden party decoration ideas, you can't go wrong with adding some extra lighting to set the mood!
4. Avoid Planting Annuals
While annual plants like impatiens, geraniums, verbena, and petunias add pretty pops of color to your yard, they only last for one season. Also, these annual plants won't survive winter in the U.S. Not only can purchasing and planting annuals be expensive, but it can also be time-consuming.
We suggest choosing pretty perennials over annuals since they live for more than just one season. And some perennials, like peonies, lavender, and day lilies, can keep returning for years, even decades, to freshen up your outdoor area.
5. Use Outdoor Rugs to Cover Worn Decks or Paving
If your backyard deck or patio looks worn and tired, replacing it can be really expensive. Instead, save money by buying a pretty outdoor rug to cover it. Outdoor rugs come in all sizes and shapes and are made out of durable and sometimes cheaper materials for a tight budget.
Using outdoor rugs is a cost-effective alternative to laying a new concrete slab or completely rebuilding your deck just because it's a little drab. However, sometimes replacing decks or patios that aren't safe is necessary, but you can save money over time for this by adopting frugal habits and living below your means.
6. Use Borders to Groom Your Backyard
Another great tip for backyard landscaping ideas on a budget is to polish your backyard is using borders like border boxes, pavers, plastic barriers, rocks, metal edging, or other garden materials. The sky is the limit when it comes to bordering your garden beds, but they can really neaten things up and create a unique space.
Another great backyard landscaping idea for borders is pretty fencing. It's actually some of the least expensive backyard ideas for an elegant-edged design. Look at shorter, cheaper fencing options. You can even have that white picket fence you've always wanted.
Using borders creates separate spaces that look sleek, even if you have a small garden or outdoor space.
7. Conserve Water to Save Money
Watering your flowers can increase your water bill in some areas, especially where it is hot. Some plants need more water, so planting drought and sun-tolerant perennials can help you save money on water.
And you can conserve more water over time by laying down mulch or installing an automatic irrigation system. You can even use xeriscaping which involves designing a landscape that can withstand droughts.
8. Use Mulch
Another one of my favorite affordable backyard ideas is spreading mulch. Mulch comes in a variety of shades that can make any flower bed or landscape pop. If you have a lot of flower beds or a large backyard, mulching can get expensive, but if you spread a thinner layer, you can save money.
You can even get free mulch like leaves, straw, compost, or wood chips if you're looking for cheaper options for your flower beds.
9. Fill Big Gaps in Your Backyard With Ornamental Grasses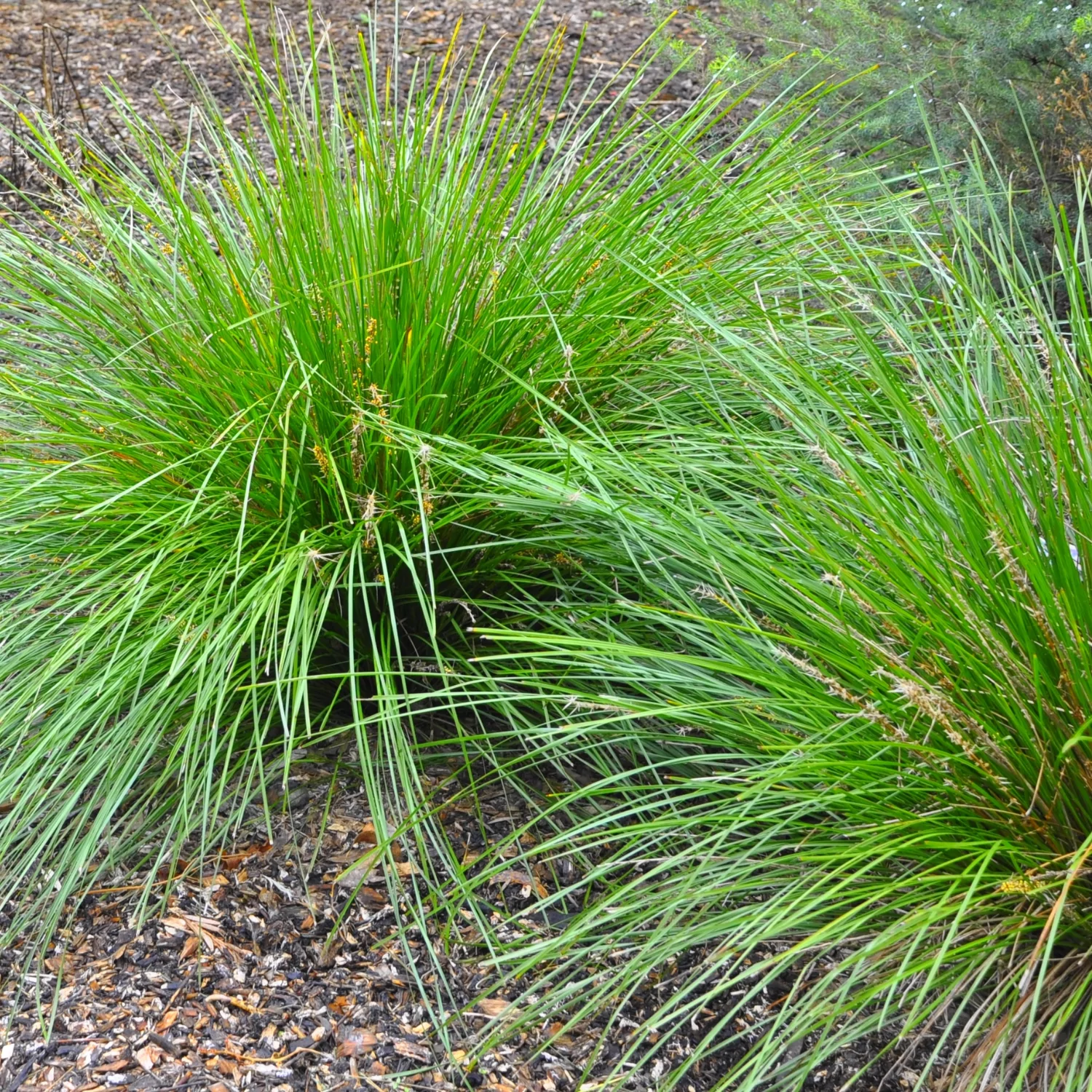 Tall ornamental grasses like Indian grass or switch grass are great for filling large spaces in your garden or yard. As a bonus, they add movement and texture to your outdoor living space.
These types of grasses are great cheap landscaping ideas because they are inexpensive and grow fast to fill spaces quickly.
10. Create a DIY Fire Pit
Everyone loves sitting around the warm glow of a fire pit, but these are backyard ideas that can be pricey if you purchase one at a home improvement store. But never fear; you can DIY your own fire pit using sand and pavers.
While there are no real skills involved, someone more experienced will be able to create a more intricate or fancy fire pit. But you can design a simple one to start for around $100 or less.
11. Trim Existing Shrubs for Structure
While trimming shrubs is not one of my favorite tasks, reshaping them adds structure and dimension to your yard. Best of all, if you already have hedge clippers, it won't cost you any money to spruce up your flower beds.
You may even want to think about adding shrubbery like boxwood, thuja confers, or even plants like honeysuckle will make pretty and fragrant options.
12. Create an Edible Landscape
Why not turn a flower bed into an herb garden or build a pretty raised garden bed and plant herbs or vegetables? Even if you have a small backyard, you can create a little area for herbs or other edible flowers if you don't have room for a full garden.
The nice thing is that no green thumb is required, which makes this one of the best simple, cheap backyard ideas for maximum impact. Herb seeds don't cost that much, and they are easier to grow than some other plants.
13. Design a Small Garden Around Your Mailbox
Plant climbing flowers like roses, Wisteria, or hydrangeas for a pop of color that runs up your mailbox. These make pretty vertical gardens. You can also get the same looking in other places in your yard or garden using a trellis or fence.
Another neat idea is to create a small, mulched flower bed with one or two small plants in a circle. Circular flower beds are always pretty and add nice details to any yard.
14. Build a DIY Bench or Outdoor Furniture
Benches are always nice editions to any yard or seating area, but they can be expensive to buy. Building your own bench is one of those great backyard ideas that doesn't cost a lot of money. You'll just pay for the lumber, nails, and any cover materials (which you can also create by cutting square pieces of foam and covering them with cloth). If you're planning to use aluminum for any part of your project, be sure to check out this guide to painting aluminum before you start!
It's a cost-effective way to add some seating, and you can even take it a step further and build an outdoor coffee table or purchase an inexpensive one. Consider getting creative and designing a pretty rock garden using river rocks or adding flowers and other greenery to make it a pretty focal point for your entire space.
There are endless backyard ideas for outdoor seating that makes a great addition to any small patio or outdoor kitchen. There's nothing better than eating food cooked outside while you're surrounded by vibrant colors.
15. Take Advantage of Sales and Deals for Backyard Landscaping Ideas on a Budget
Certain times of the year are better for purchasing your gardening supplies and plants because you can get them at a discount.
While springtime is the best time to plant after winter, you save a lot of money (like hundreds of dollars) by waiting to buy things during early fall and late summer. That's because this is the time of year that many home improvement stores and garden centers want to get rid of the stock they have.
Waiting to buy is a great idea for saving money if you have a tight budget for your outdoor landscaping and gardening.
Another option is to let us bring the deals to YOU! We find the BEST online deals and share them with our followers every single day on our Facebook page. We're always looking for relevant items to find on sale so you can guarantee we find backyard landscaping essentials that will make your wallet happy! Come join us!
16. Use Cardboard to Fight Weeds
One of the downsides to outdoor planting is dealing with garden weeds. Unfortunately, it's hard to get rid of them totally, but you can discourage them by laying cardboard or plastic sheeting down before planting and mulching.
We prefer cardboard as it is biodegradable, better for the environment, and provides a great weed shield while still allowing moisture to penetrate the soil.
Final Thoughts on Backyard Landscaping Ideas on a Budget
Now that you have some great ideas for low-cost landscaping and gardening, are you excited to create a beautiful outdoor space you can use most of the year?
You may want to add an outdoor fire pit or seating area or just plant some pretty flowers to liven things up. There are plenty of things on this list you can do at a lower cost to liven up your space. You don't have to blow your whole budget to design a pretty yard that will be the envy of the neighborhood.