Picture this… it's late at night; you're sitting on the couch watching TV when you suddenly get a craving for something sweet. But what can you throw together in just a few minutes? The answer is this simple, 3-ingredient cake mix mug cake!
They take less than 5 minutes to whip up and only require 3 ingredients. Plus you can easily customize your mug cake with just a few simple toppings.
If you have young kids, these can be great for a late-night family activity, a kid's sleepover, or a birthday party. Get different kinds of toppings and decorations so that your kids can decorate them however they like.
So whether you're looking for a single-serving dessert to feed that late-night craving or a fun customizable treat for the whole family, you can't go wrong with this mug cake recipe!
Jump to Recipe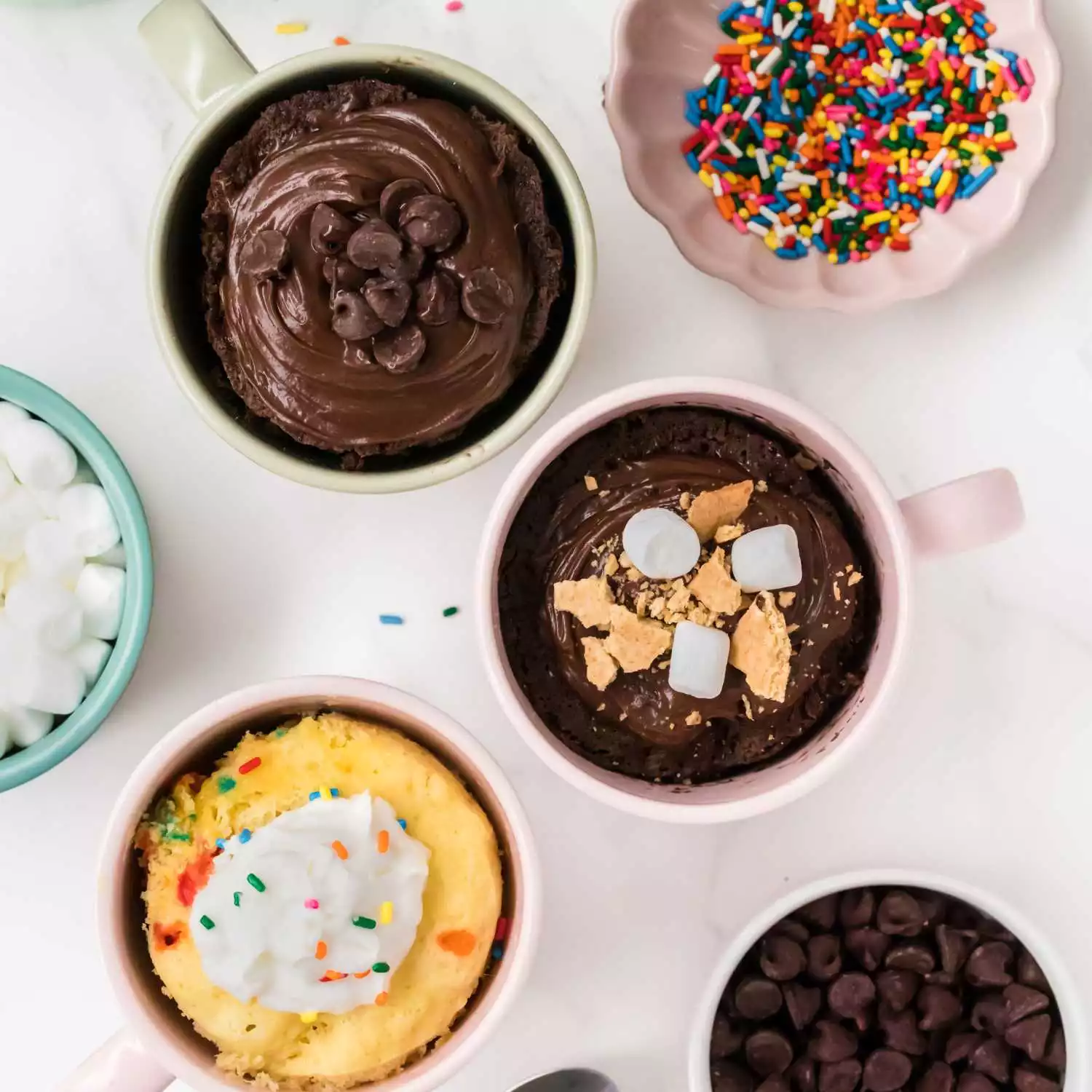 This post may contain affiliate links which means that I may receive compensation at no extra cost to you if you make a purchase from a link found on my site. Please review my privacy policy for further details. As an Amazon Associate, I earn from qualifying purchases. Thank you for your support in allowing this site to continue!
How To Make Mug Cake (With Just 3 Ingredients!)
Supplies
Microwave
Mug Larger Than 12oz
Non-Stick Spray or Parchment Paper
Small Whisk or Spoon
Ingredients
10 tbsp of Instant Cake Mix (For the best cake mix options, go here.)
1 tsp Vegetable or Canola Oil
7 tbsp Milk
Optional Ingredients For Decorating & Mix-In's
Chocolate Chips
Sprinkles
Frosting
Ice Cream
Fresh Fruit
Fudge Sauce
Caramel Sauce
Nut Topping
Coconut Flakes
Mini Marshmallows
Directions
To avoid the cake getting stuck to the inside of your mug, we recommended that you spray the inside thoroughly with non-stick cooking spray. You can also use parchment paper if you prefer.
Next, you will prepare the batter. Add the instant cake mix, oil, and milk to your mug.
Mix with a spoon or whisk until the batter is smooth. The batter should be a bit thin similar to pancake batter. If it's too thick, add more milk as needed until it has reached the right consistency.
Place the mug with your prepared batter in the middle of your microwave plate and cook on high for 2 minutes. As the cake is cooking, it will pull away from the side of the mug. Once completed, use a toothpick to test that the mug cake is cooked through. If it is not fully cooked, put it back in the microwave in 30-second increments until it is fully cooked.
*Caution: The mug will be HOT. We strongly recommend using oven mitts to remove the mug from the microwave.
Allow your mug cake to cool for 1 minute or until the mug is comfortable to handle. Then you can decorate it with sprinkles, frosting, whipped cream, or anything else you would like to add!
In the picture below, we created a decadent smores mug cake, using chocolate sauce, mini marshmallows, and gram cracker crumble. See more pictures below for more decorating ideas!
Additional Tips When Making Your Cake Mix Mug Cake
#1 – If you plan to use parchment paper instead of non-stick cooking spray, make sure you leave about an inch of excess parchment paper above the rim of the mug. This will help to avoid spillage as the cake heats up in the microwave.
#2 – For the best cooking results, microwave mug cakes individually. If you do plan to make several at one time, you can cook them in the oven instead. Go here to learn how to make a batch of mug cakes.
#3 – These will produce steam as they cook. The steam can quickly condense on the microwave door, making it difficult to keep an on your mug cake. You make need to wipe down the inside of the microwave door, especially if you plan to cook one after another.
#4 – All microwaves vary in terms of wattage and size. Keep an eye on your cake as it cooks to ensure it doesn't overcook, otherwise, your mug cake may have an unpleasant, chewy texture.
Which box cake mix is best for mug cakes?
There are so many different cake mixes to choose from, so you may be wondering which is the best to use with this recipe. In our experience, it really depends on the type of cake you want to make.
We've included some of the best options here as well as some gluten-free options!
If you're totally out of cake mix and can't wait until your next trip to the store, go try out this recipe to make delicious brownie mix cookies if you have a box of brownies on hand instead!
Regular Cake Mixes
Gluten-Free Cake Mixes
FAQs
Why is my mug cake mushy?
If you notice that your mug cake is mushy, it likely means you overcooked it or that you put in too much oil.
One important thing to note is that every microwave has a different wattage. So, while some microwaves can take 2 minutes and 30 seconds to fully cook the cake, it might take less than 2 minutes in another microwave. So, when you make your first cake, consider cooking it in 1-minute or 30-minute increments to avoid the mug cake from overcooking.
Like most baking, there's often a bit of trial and error involved. On the plus side, as you figure out what works best in your kitchen, your mug cake will simply get better over time.
Are mug cakes supposed to be gooey?
Yes, a properly cooked mug cake is supposed to be slightly gooey, especially in the middle. At the same time, you also want it to be fully cooked.
Making sure the cake stays moist will ensure you get the best overall taste and texture for your finished mug cake.
Are mug cakes safe to eat?
Yes, mug cakes are safe to eat! You just have to make sure you cook them thoroughly since raw flour is unsafe to eat. To make sure the mug cake is cooked thoroughly, you can stick a toothpick into the middle. It should be moist and a little gooey but not raw.
What else can I add to my mug cake recipe?
Since there are so many different cakes mixes and toppings that you can use, you can add a lot of variety to your mug cakes. This is what makes this a fun dessert for movie nights, sleepover parties, etc.
Here are some of our top ideas!
Mix different kinds of cake mixes together.
Add extra ingredients into the cake mix before cooking such as chocolate chips, peanut butter, or almond slices.
Use different toppings like whipped cream, ice cream, frosting, fudge or caramel sauce, sprinkles, fresh fruit, cookie pieces, etc.
What substitutions can I make?
If you don't want to use vegetable or canola oil, you can use apple sauce or pumpkin puree instead. This can add even more flavor to your easy mug cake recipe! If you need to swap out to a different milk other than cow's milk, that will work just fine too! I love this article on plant milk if you prefer to use a milk alternative in your dishes.
Do I have to use store bought cake mix or can I make my own?
You can of course make your own cake mix. But this mug cake recipe has been created so that you can make your dessert fast, and with just 3 ingredients.
If you want to add some variety to your mug cakes, try using different cake mixes. We've included over 12 flavours here, including confetti, red velvet, and more.
Can it be made gluten–free?
If you want to make a gluten-free mug cake, you can! You just need to make sure that you are using a gluten-free cake mix which can be found on Amazon or your local grocery store.
We've included 3 tasty gluten-free cake mix options in this section that you can use in this recipe.
If you're looking for another treat that is healthier and gluten-free, you could make a protein cupcake!
Can I make multiple mug cakes at once in the oven?
If you have multiple cakes to make all at one, then you might find that using the oven is more time-efficient. Plus, this will ensure everyone's cakes are done at the same time, perfect for a birthday party or sleepover.
Preheat the oven to 350º. Then, using an oven-safe mugs, bake for approximately 26 to 30 minutes, or until fully cooked.
Cake Mix Mug Cake
Learn how to make this super easy, bakery perfection, 3-ingredient cake mix mug cake with no eggs required!
Servings 1
Calories 254kcal
Cost $1 or less
Equipment
Microwave

A 12 oz Mug Or Larger

Non-Stick Spray or Parchment Paper

Small Whisk or Spoon

Sprinkles or Frosting
Ingredients
10 tbsp Instant Cake Mix
1 tsp Vegetable or Canola Oil
7 tbsp Milk
Notes
Spray the inside of a 12oz (or larger is preferred) mug with non-stick cooking spray.
Fill the mug with 10 tablespoons of your favorite flavor cake mix.
Pour in 7 tablespoons of milk.

Pour in 1 teaspoon of oil.

Mix well with spoon or whisk until smooth. The batter should be a bit thin. Add additional tablespoons of milk if necessary.

Heat in the microwave on high for 2 minutes. Cake will pull away from the sides of the mug as it cooks. If your mug cake is still liquid in the center, add 30 second increments until desired doneness. 
Caution the mug and the cake will be HOT. Using oven mitts to remove the mug is strongly advised. 
Allow to cool for 1 minute or until the mug is comfortable to handle. 

Decorate with sprinkles, frosting, or anything else you like.
And that's how you make this easy cake mix mug cake! We hope that you and your family enjoy making and decorating these.
And for more sweet treat ideas, check out these other blog posts!
Read Next:
The *Best* Unicorn Rice Krispie Treats Ever
Warm Pumpkin Spice Latte Dump Cake
Nutter Butter No-Bake Banana Pudding