If you're in the midst of planning a fall wedding and trying to do it on a budget, then you are in the right place! Weddings can get very expensive quickly, so I've compiled a list of over 20 fall wedding ideas on a budget that will still look really beautiful and elegant.
This is an incredibly special day for you, your partner, and your family and friends, so while you want to save money, you will still want to keep the things that are the most important to you and your partner. The good news is that there is usually a way to have the things that are important to you and still stick to a budget.
Before you start planning and buying stuff for your wedding, it is important to set a budget. If you find your budget is too slim, go here to learn more about how you can save $5000 in a month, which is money you can put towards your wedding.
Once you have your wedding budget set, you can start planning. Let's get started with one of the most important parts of your planning, your venue.
This post may contain affiliate links which means that I may receive compensation at no extra cost to you if you make a purchase from a link found on my site. Please review my privacy policy for further details. As an Amazon Associate, I earn from qualifying purchases. Thank you for your support in allowing this site to continue!
Fall Wedding Venue Ideas on a Budget
Wedding venues can be extremely costly with many couples reporting they spent 30% of their budget just on the venue. Thankfully, there are more budget-friendly venue options than you might think.
Outdoor Venues
In the fall, outdoor venues are a wonderful option as nature and the foliage will take care of most of the decorations for you. If you are leaning towards doing an outdoor wedding, it can be worthwhile to scout a location where there are a lot of trees, flowers, a lake, etc.
Some ideas of where you can look include:
local beaches
national parks
farms
campgrounds
gardens
vineyards
Depending on how many guests you have, your backyard or an Airbnb with a larger yard can be another great option.
Indoor Venues
If outdoor weddings aren't your thing, or if you want to have just the wedding reception indoors, then you will want to explore your local indoor venue options. Some ideas where you can start looking include:
libraries
museums
community hall
community center
greenhouse
barn
Airbnb
restaurant
chapels
universities
Fall Wedding Decor Ideas on a Budget
Decorations are an important part of your wedding. They create a vibe and can make your venue feel completely unique to your wedding. Whether you want a lot of decorations, or if you want to keep your decor more minimalist, there are a lot of great fall wedding decor ideas that will fit your budget.
When it comes to choosing your decor, you will want to pick a few elements and layer them together for a full, elegant look. Here are some really common decor pieces that are often included in fall weddings.
How to have a cheap fall wedding that doesn't "look cheap:
No one wants their wedding to look cheaply done! You can absolutely have a budget-friendly wedding without it looking like you cut corners on the expense. Consider adding these fall wedding decor ideas that are still on budget:
Harvest Decor
pumpkins
apples
cranberries
branches
wood slices
red, yellow, and orange leaves and flowers
cornucopia
pinecones
haybales
Lights
lanterns
string lights
candles
Wood
pallet's
branches and sticks
wooden benches
boxes
framed pictures
wooden signs
Glass
mirrors
mason jars
glass trays
Fabric & Ribbons
cotton fabric
lace
burlap
ribbon
Greenery & Flowers
sunflowers
dahlias
orchids
pampas grass
chrysanthemums
succulents
*There is another section coming up that contains tips and ideas for fall wedding flowers on a budget as well.
DIY Fall Wedding Decor Ideas on a Budget
Burlap Pumpkins – These cute DIY pumpkins would look really cute as part of a centerpiece or on any of the tables at your reception.
Glitter Pumpkins – If your decor style is more glitz and glam, then you will love these DIY glitter pumpkins.
Wishing Tree – A wishing tree can be used in place of a guest book, or in addition to a guest book, and they are really easy to make yourself with some branches or a small tree. For the tags, you can usually find these at your local dollar store or craft store. You can also find tags on Amazon like these ones.
Wood Wedding Arbor – This super cute DIY wedding arbor is really simple to build, and you could easily modify the decorations you are adding.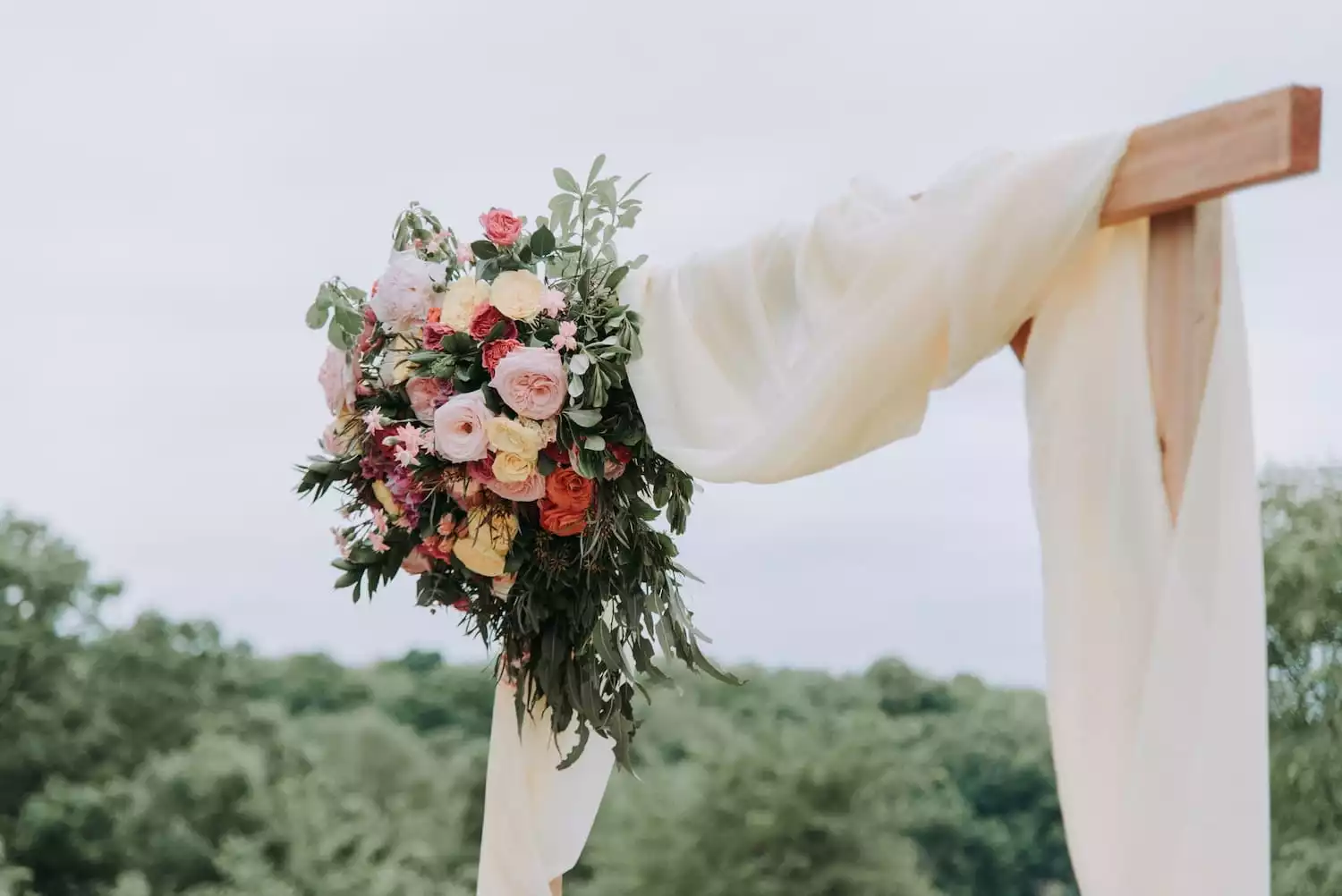 Floating Candle Centerpieces – A really beautiful budget-friendly centerpiece idea is using floating candles in glass vases. You can decorate your vase with paint like this, or you can decorate them with lace, ribbon, or burlap like this. Then you just fill them with water and add floating candles.
Picture Frame Wedding Numbers For The Tables – You can use small picture frames like these ones in combination with these really pretty number signs for a really simple DIY project.
Lantern Floral Arrangement – Lantern floral arrangements are a really simple DIY project that you can do yourself using supplies from Amazon, your local dollar store, or craft store.
DIY Floral Canopy – If you love the look and style of overhead floral canopies, then you will definitely want to try this dollar store DIY project using a hula hoop.
Floral Photo Hoop – This dollar store DIY project makes a really unique and pretty photo display for your wedding. You can even add photos to both sides so that as it spins around, there are more photos to see.
Fall Wedding Flower Ideas on a Budget
Flowers can be extremely costly and can eat up your budget quickly. So, to help you stay on budget, I've compiled the best tips to help you find your flowers on a budget.
One thing you will need to decide is if you will be using real, silk, or other faux flowers. There are ways to save money with either option, so it just depends on your personal preference.
Shop In-Season Flowers
If you are getting real flowers, one thing that can really drive up the cost is shopping out of season. Instead, look to the flowers that are in season to save some money.
The flowers that are in season will vary depending on where you live in the world, so I recommend talking to your local flower shop or florist.
Choose Quality Over Quantity
Whether you have decided to go with real or faux flowers, your arrangements will look so much better with quality flowers. That might mean your arrangements are smaller in size, and maybe there are fewer of them. But, you can add in some of the other budget decor ideas mentioned previously in this post to round out your decor.
*Tip – If the arrangements on your tables look small, you can place a small mirror tray underneath them, or add a vase with water and a floating candle to reflect the color and add more light to your arrangement.
Buy Used Flowers
Many people will actually sell their faux flowers when they are done using them for their own wedding, so you can get a lot of flowers at a much lower cost. Plus, they may even already be arranged into bouquets and other arrangements, ready for you to use.
Consider Dried Florals
Dried florals, especially for fall weddings, are something that is really trending right now. You can use dried florals all on their own, or you can use them in combination with real or silk flowers.
Fill In Your Flowers With Greenery & Branches
Flowers are much more costly than things like greenery and branches, so try filling in your flower arrangements with these components. This will add variety and texture, and make your arrangements look more expensive.
Fall Wedding Food Ideas on a Budget
You want to make sure you and your guests are well-fed, but food can get expensive. Particularly if you bring in specialized caterers and depending on the dishes you want to serve. Thankfully, there are ways to save money on food, and I've compiled a list of some ideas here for you that will work really well for your fall wedding.
As you're excitedly planning for your wedding menu, don't forget about the rehearsal dinner! We've rounded up the BEST wedding rehearsal dinner ideas on a budget that will leave you and your guests satisfied and eager for the big day!
Outsource The Main Meal & DIY The Snacks & Sides
A lot of the food at a wedding can be prepared in advance, including the snacks and sides, so if you want to save yourself some money, make as much food yourself as you can in advance. Keep in mind, that is a lot of food to prepare, so see if any of your family or friends can lend you a hand with this.
Then for the main meal, you can use a caterer or a restaurant to prepare the food for you.
Are you looking for some simple food dishes that you can prepare yourself? Read this blog post which includes 29+ simple but delicious ideas.
Keep The Main Meal Simple
The main meal is what will cost the most, so try and keep it simple. Focus on just one or two protein options for your guests, and then offer a variety of sides. This will ensure there is enough food to fill up your guests while still sticking to a food budget.
Buffet Style Vs. Servers
Buffet style is definitely the budget-friendly option at a wedding as you don't need to pay for servers. This also allows your guests to pick and choose what they want to eat.
However, if your heart is set on having servers, there are some ways you can save money. You can ask your friends and family if they have any friends that are looking for a little extra money. You can also look for some responsible local University students. While they may not have professional serving experience, this is a great way to still have the experience that comes with having servers while also saving some money.
Add Dessert Stations
Wedding cakes can be costly as well, so instead of buying a massive cake to feed all your guests, consider adding other dessert stations to fill this out. Some ideas include:
s'mores
pies
cookies
donuts
ice cream sundae
chocolate fountain
cake pops
cupcakes
I hope this list has given you some ideas and also inspired you to think outside the box on ways you can still have a really beautiful, budget-friendly wedding.
We'd love to hear any budget fall wedding ideas that you have as well! Be sure to share in the comments below!