We know weddings can be a workout for your wallet but, hold onto your bouquets because we've got good news. In this article, we've put together the ultimate guide to nailing a rehearsal dinner that's more thrills and fewer bills with these wedding rehearsal dinner ideas on a budget!
The night before your wedding day, it's all nerves and excitement. What's the recipe for calming those pre-wedding jitters while keeping the bank account happy? A knockout rehearsal dinner, of course!
This pre-wedding fiesta isn't just about practicing your aisle walk (which, let's face it, is an art form). It's your chance to kick back, share laughs, and savor deliciousness with your closest friends and family. And yes, you can do it without maxing out your credit card.
Ready to discover low-cost venue hacks, DIY décor tricks, and budget-friendly menu tips? Let's dive in and take a look at the best wedding rehearsal dinner ideas on a budget!
This post may contain affiliate links which means that I may receive compensation at no extra cost to you if you make a purchase from a link found on my site. Please review my privacy policy for further details. As an Amazon Associate, I earn from qualifying purchases. Thank you for your support in allowing this site to continue!
Budget-Friendly Rehearsal Dinner Venue Selection
Whether it's your backyard, a breezy park, or a charming community center, setting the venue for your wedding rehearsal dinner and picking the right place will help you determine what type of menu you serve.
Make sure the venue you select is the right size to accommodate your guest list. Having a small guest list is an easy way to bring the cost down. It's a good idea to invite immediate family members (or close family only) as well as your bridal party, flower girl and ring bearer, officiant, and sometimes out-of-town guests.
Then it's time to let your creativity run wild, and watch your rehearsal dinner turn into a blockbuster hit without the blockbuster budget!
Backyard or At Home
Your backyard, your best friend's deck, or even your cousin's cozy living room can become the hottest rehearsal dinner spot in town. Think about it – you're surrounded by memories, and you can tweak the setup to match your particular style. Plus, it's practically free real estate! Just string up some fairy lights, throw in a few cushions, and voilà – you've got yourself a DIY paradise.
For more ideas to make your backyard shine, check out these Backyard Landscaping Ideas on a Budget!
Parks & Beaches – The Great Outdoors
If you're all about those outdoor vibes without the fuss, a local park or a beach is your golden ticket. Mother Nature's the decorator here, providing stunning views and photo ops that won't put a dent in your honeymoon fund. Spread out a few blankets (such as these gorgeous Boho Picnic Blankets), bring in some picnic baskets, and you've got a scene straight out of a rom-com and an inexpensive rehearsal dinner venue.
Community Centers & Halls
Want to take the party indoors? Community centers and local halls are like hidden gems for budget-conscious couples. They're not only budget-friendly but also a blank canvas ready for your personal touch.
These buildings come in all shapes and sizes, which makes them a great option for large groups to make sure you have enough space for an amazing rehearsal dinner. With a little bit of streamer action and some table centerpieces, you can transform these spaces into a magical setting that'll have your guests swooning.
10 Best Budget-Friendly Rehearsal Dinner Menu Ideas
The key is to focus on simple, crowd-pleasing dishes that can be easily prepared in larger quantities. Also, another good thing to consider is the season and availability of ingredients to keep costs in check.
Here are some of the best ideas for a wedding rehearsal dinner menu on a budget you can use that'll be a hit with your guests AND your wallet!
1. Taco Bar
Set up a DIY taco bar with all the fixings – seasoned meat, beans, veggies, cheese, salsa, and guacamole. Throw in some tortilla chips, rice, and beans on the side for a well-rounded fiesta. Taco bars are a great way to feed a crowd with dietary restrictions because everyone chooses exactly what goes on their own plate.
Check out this article for some ideas on how to put together the perfect Taco Bar!
2. Pasta Party
Pasta is a crowd-pleaser that doesn't cost a fortune. Serve a variety of pasta shapes with different sauces – think marinara, creamy Alfredo, and pesto. Add some garlic bread and a simple salad for a complete meal.
Need an easy and budget-friendly marinara recipe for your pasta bar? Try this homemade and hearty Marinara Sauce. It doesn't get any easier or better than this 3 ingredient recipe for Alfredo Sauce.
3. BBQ Bash
A backyard barbecue is a fantastic way to feed a crowd. Opt for a backyard BBQ with burgers, sausages, or hot dogs. Accompany the main attractions with classic sides like coleslaw, potato salad, corn on the cob with butter, and tangy baked beans. For a touch of elegance, throw in some grilled vegetable skewers. This no-frills feast is not only easy to prepare but also a surefire way to keep your rehearsal dinner budget in check.
This recipe for homemade and hand-shaped burgers is perfect for a backyard barbecue.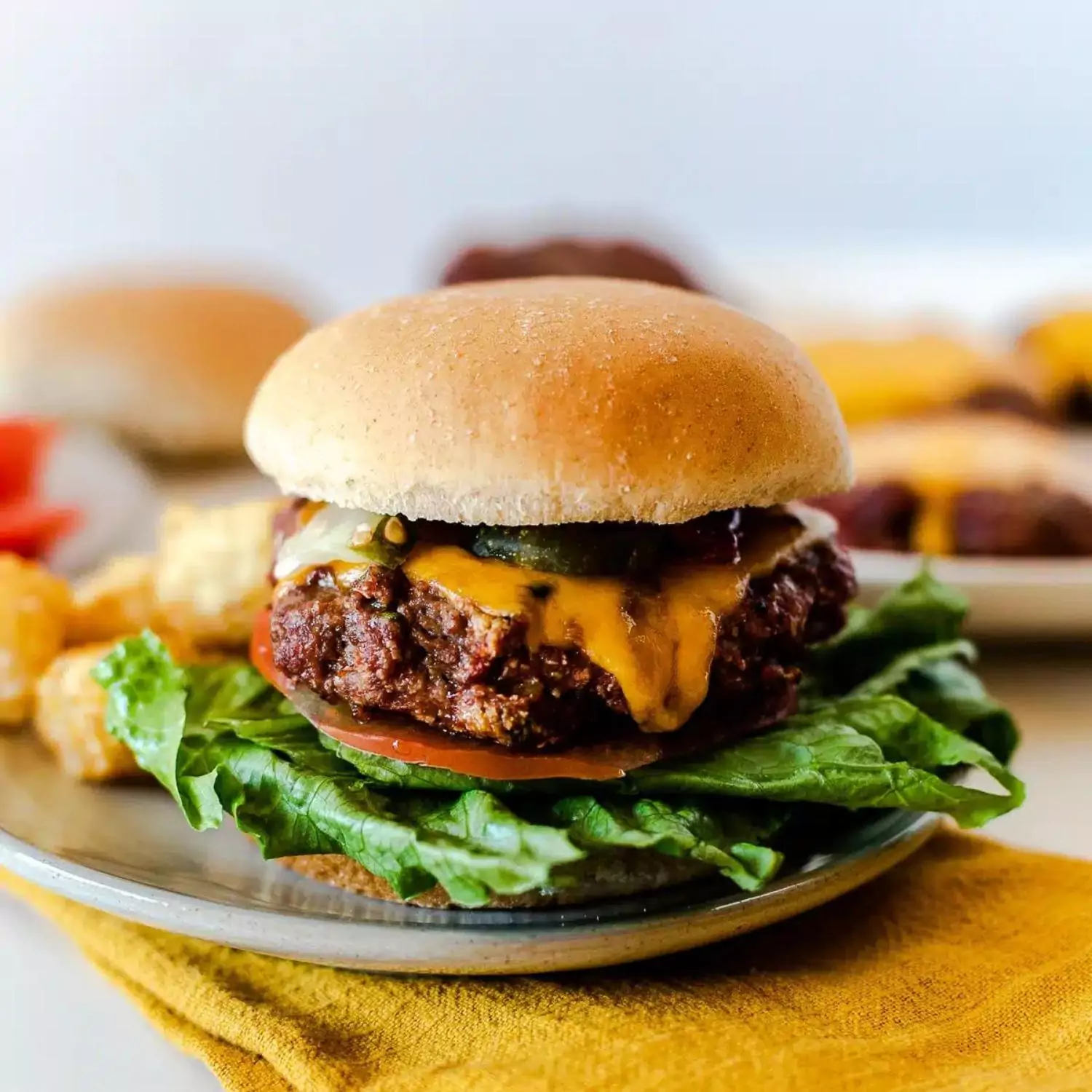 4. Homestyle Comfort Food
Stick with classic comfort foods like chili, meatloaf, mashed potatoes, and roasted vegetables. It's a heartwarming option that won't strain your wallet.
Everyone loves a good comforting Chili Recipe like this one!
5. Pizza Party
Pizza is a fun and easy option. Order a variety of pizzas or make your own mini pizzas with different toppings for that personal touch. You can make your own homemade pizza dough for PENNIES with this homemade pizza dough recipe!
6. Food Truck Fiesta
Add a dash of urban charm to your rehearsal dinner by bringing in a food truck or two. Choose a couple of food trucks that offer different cuisines – think tacos, gourmet burgers, gourmet grilled cheese, or even ice cream for dessert. Food trucks often come with their own unique setups, so you'll have an effortlessly cool atmosphere without the need for extra decor. Guests can choose their favorites, and you'll have a rehearsal dinner that's as hip as it is budget-friendly.
7. Soup and Salad Soiree
Prepare a couple of hearty soups (think tomato basil, minestrone, or chicken noodle) and pair them with a build-your-own salad station. Provide different greens, veggies, toppings, and dressings.
This recipe for Minestrone Soup is sure to be a hit with a crowd, and it takes just 30 minutes from start to finish.
8. Brunch Bonanza
Host a budget-friendly brunch with a spread of bagels, cream cheese, smoked salmon, fruit platters, yogurt parfaits, and quiches.
No brunch would be complete without this recipe for Roasted Broccoli, Cheddar and Bacon Quiche.
9. Finger Foods
Put together an assortment of finger foods like sliders, mini sandwiches, vegetable platters with dip, and cheese platters.
Try out this recipe for Pulled Pork Sliders for a finger food menu that won't leave guests lacking!
10. Potluck Extravaganza
Share the love (and the workload) by turning your rehearsal dinner into a potluck feast. Invite your close friends and family to contribute their favorite dishes. This not only adds a personal touch but also brings a diverse array of flavors to the table.
Coordinate with your guests to ensure a mix of appetizers, main courses, sides, and desserts. It's a wonderful way to celebrate togetherness and showcase the culinary talents of your loved ones. Just make sure to provide a variety of serving utensils and containers for easy transportation and serving.
Creative Wedding Rehearsal Dinner Beverage Options
What can you serve alongside your rehearsal dinner if you're on a tight budget? Here are a few great ideas:
Craft a signature cocktail using budget-friendly spirits and fresh ingredients.
Have a mocktail station with flavored waters, juices, and soda. Skip the alcohol for a lower price tag.
Self-serve beverage bar (skip the cost of a bartender).
DIY Decor and Wedding Rehearsal Dinner Ambiance
Now that you have your food, drinks, and venue, how can you dress it up without breaking the bank? Here are a few great ideas to enhance your dinner ambiance:
Personalized decorations using craft supplies and family mementos.
Utilize candles, fairy lights, and inexpensive table centerpieces.
DIY photo booth area for entertainment and lasting memories.
We dig down deep with many more ideas for affordable wedding decor in this Fall Wedding Ideas on a Budget article! Many of the ideas can be repurposed for a wedding any time of the year and not just Fall!
Budget-Friendly Wedding Rehearsal Dinner Entertainment and Activities
The entertainment at a rehearsal dinner doesn't need to be over the top to make an impact. Consider some of these simple ideas if you're looking to add a bit of fun to the evening:
Homemade slideshow or video showcasing the couple's journey.
Interactive games or trivia related to the couple's relationship.
Set up a low-cost dance floor for an evening of fun and laughter.
Music and Mood
Create an atmosphere that resonates with you and your partner – the best part is making it personal. With a bit of creativity, a curated playlist, and a simple setup, it is the perfect way to set the mood for your rehearsal dinner without spending too much money on expenses.
Curate a playlist of meaningful songs for a personalized touch.
Enlist musically talented friends or family for live acoustic performances.
Final Thoughts on Wedding Rehearsal Dinner Ideas on a Budget
In a world obsessed with wedding splurges, we've unveiled the magic of a budget-friendly rehearsal dinner with these high-impact, low-cost strategies designed to make your day wonderful. It's not just about saving a few dollars; it's about embracing an event that's uniquely you while having a great time in the process.
From DIY decor to curated playlists, you're crafting an intimate experience that'll be etched in your hearts forever.
As you plan your big day, remember that love shines brighter than extravagance.