If you need a realistic stay-at-home mom cleaning schedule that is easy to maintain, then you've come to the right place.
We all have different thresholds for how clean we like our house! I'm a bit of a neat freak, and it affects my mood if my house is consistently messy or dirty.
It's easy to maintain a spotless house when little ones don't trail behind you and almost immediately mess up that very thing you just cleaned! And it's tempting to think, "I don't even know why I clean this house at all! Forget it!"
But let me encourage you by saying, "Don't strive for perfection!" It's an illusion and it will drive you insane. Realistically keep your house clean according to what feels right for you and your family. If you're in need of a little encouragement, here are some of the best homemaking quotes to lift your spirits!
Having a cleaning schedule gives you a healthy framework to set goals for yourself and maintain a clean home. If you're like me, you may find it incredibly motivating to check off a small task each day that you successfully achieved!
This post may contain affiliate links which means that I may receive compensation at no extra cost to you if you make a purchase from a link found on my site. Please review my privacy policy for further details. As an Amazon Associate, I earn from qualifying purchases. Thank you for your support in allowing this site to continue!
Why create a stay at home mom cleaning schedule?
The hardest thing about keeping a clean house is how quickly the mess can spread. But when you stay motivated to tackle those daily, weekly, and monthly cleaning tasks, you'll find that you can manage the messes a lot better.
Plus, doing a little bit of cleaning every day establishes a routine. And especially for stay-at-home moms, it will also be a reminder to your kids that taking care of the home is part of the family's daily schedule. I definitely recommend getting the kids involved in helping clean the house as well!
Lastly, creating a cleaning schedule allows you to see all of your cleaning tasks at one time, broken down into manageable pieces.
Easy Stay At Home Mom Cleaning Schedule
I'm excited to share with you this manageable cleaning schedule for busy moms that actually works! I've linked a few of my favorite Amazon finds related to cleaning that you may find helpful as well. And at the bottom of this list, you can print out the FREE stay at home mom cleaning schedule!
Daily Cleaning Checklist
Make beds
Wash dishes
Wipe down kitchen surfaces
Wipe down bathroom surfaces
Sweep high-traffic areas
Vacuum high-traffic areas
Empty trash
General pick-up
Weekly Cleaning Checklist
Monday: Deep clean bathrooms
Wednesday: Dust surfaces & clean windows
Thursday: Kitchen (microwave, fridge, cabinets)
Friday: Laundry, change sheets
Weekend: Budget check-in, meal plan
One important way to extend the life of your laundry is knowing how to properly read laundry symbols on your garments! Check out this laundry symbols chart that will be a great guide (or even a cute little decor piece) to add to your laundry room.
Monthly Cleaning Checklist
Declutter (papers, toys, clothes, cabinets, etc)
Clean fan blades
Sanitize garbage cans
Clean baseboards
Clean car (inside and out)
Rotate mattresses
Dust blinds and curtains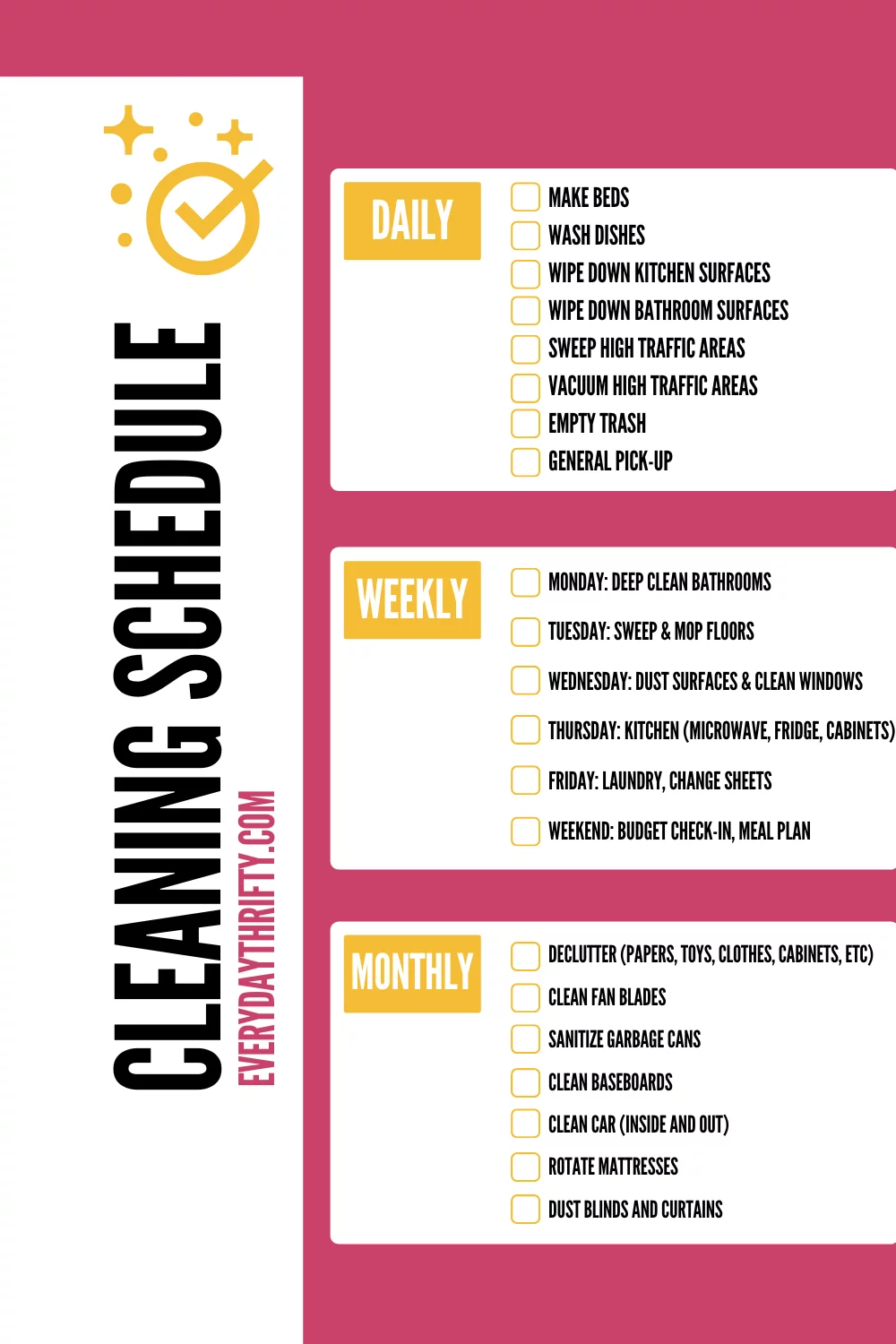 Keeping your house clean is no easy task, especially with kids! Planning ahead with a cleaning schedule is a realistic way to stay organized and on task.
And, if you're looking for a comprehensive list of cleaning supplies, check out The EXACT Cleaning Supplies List Needed for a Spotless Home!
You may also find these articles helpful:
15+ Playroom Ideas On A Budget (That Still Look Great!)
12 Engaging Morning Basket Ideas to Try Today
51 Inspiring Hobbies for Moms to Begin TODAY!
The BEST Subscription Boxes for Kids!
Homeschool Organization Ideas for Small Spaces