These mom group conversation starters are a great way to connect with other moms!
We've all been in that awkward situation where you're meeting another mom and you just don't how to naturally get the conversation going. As a result, it's easy to brush off the need for friendship and just tell yourself, "It's just too hard to find other moms to hang out with."
Getting plugged into a community of other women who are going through the same season of life is so important. It allows you to have an outlet to vent, hear really good advice, and learn that "it's not just you!" Many moms are dealing with a lot of the same struggles and it's comforting when we can sit down with someone and be on the "I totally get it" level.
One of my favorite books lately where I feel like the authors are my BFFs and "get me" are the Midnight Mom Devotional gals on Facebook! They have a book out of 365 devotionals that are bite-sized yet POWERFUL that you can grab from Amazon.
As a mom, you're no stranger to days of stress, loneliness, and even feelings of defeat. This list of mom group conversation starters will help get to know each other better and will give you an outlet to share more about yourself!
These questions were created to be used in all settings such as meeting up with a friend for coffee, catching up with a bestie over the phone, ice breakers for a party or gathering, or even when you need to plan a women's retreat. You'll find everything from basic biographical questions to more personal questions and also some funny questions.
Feel free to jump around the list and go in any order you prefer. While these questions are intended for mom groups, they work just as well for many social settings not just limited to mom groups.
Alright ladies, let's go ahead and get to those questions. Don't forget to scroll down to the bottom to get the FREE Printable list as well!
This post may contain affiliate links which means that I may receive compensation at no extra cost to you if you make a purchase from a link found on my site. Please review my privacy policy for further details. As an Amazon Associate, I earn from qualifying purchases. Thank you for your support in allowing this site to continue!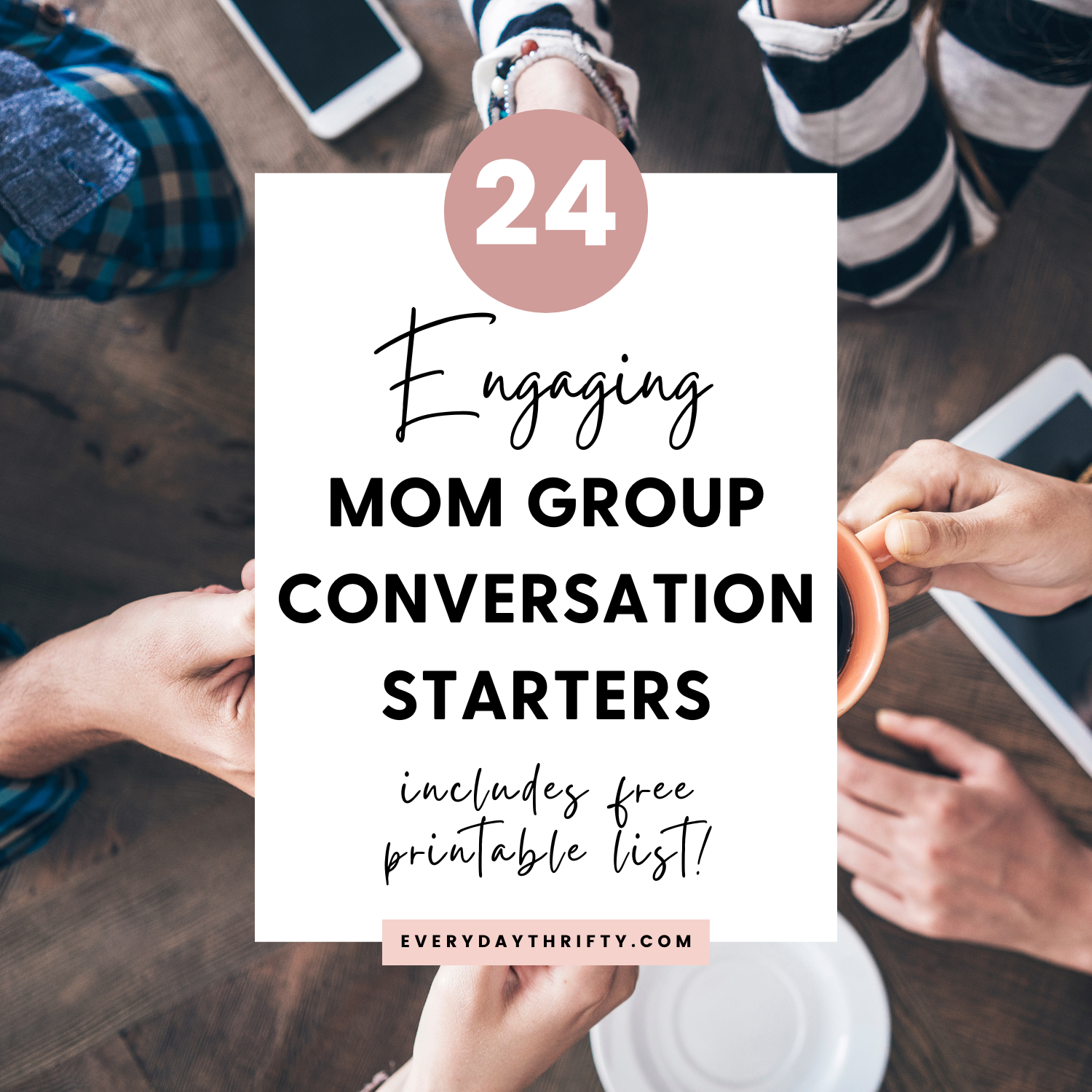 Engaging Mom Group Conversation Starters
What was the highlight of your week?
What is something you're looking forward to?
What do weekends usually look like in your house?
Where did you grow up? What was it like?
What is your favorite restaurant in town? (or nail salon, thrift store, park, etc)
Do you have any pets?
What sort of activities are your children involved in?
What's your go-to meal that your whole family loves?
Where did you get inspiration for your children's names?
What is something you're really good at but embarrassed that you're actually good at it?
What did you want to be when you were little?
What song would you sing for karaoke?
What's your Starbucks order?
Share your birthing experience.
Did you have any crazy pregnancy cravings?
What is the hardest part about being a mom in this season of life?
What is the best parenting book you've read?
What is one of your funniest "mom fails"?
What is your favorite guilty pleasure TV show or movie?
Where is your favorite family vacation destination?
What is something you've done that you're pretty sure no one else sitting here has done?
What advice would you give to a new mom?
What was a favorite job you've ever held and why?
What is your most frequently used "mom phrase"?
Meeting and connecting with other moms isn't always easy. And sometimes it's hard to know what to talk about especially when it comes to sharing about ourselves.
We hope these mom group conversation starters will help facilitate community with other women. When talking with others, remember to ask, listen, and respond with more questions.  This in turn helps keep the conversation flowing naturally!
Which question was your favorite? Do you have a go-to conversation starter that always gets people talking? If so, we'd love to hear about it!
You may also find these resources helpful to encourage you in your walk as a mom: Breakthrough Bible Verses for Weary Moms, 27 Positive Affirmations for Moms, and 51 Inspiring Hobbies for Moms to Begin TODAY!